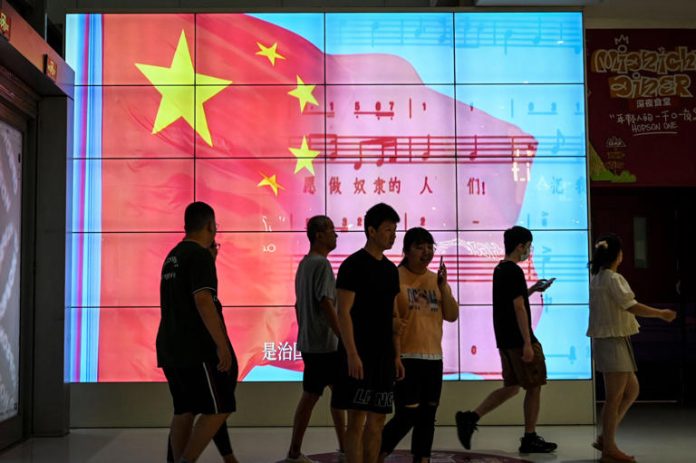 Analysis of hundreds of posts and videos on major Chinese social media platforms like Bilibili, Douyin, Kuaishou, Weibo, and Xiaohongshu reveals that the platforms don't have a uniform approach to moderating racist content. This was especially true of racist content directed at Black people.
The findings are part of a new analysis by Human Rights Watch, an international organization that reports on human rights abuses.
The posts, which date back to 2021, included racial stereotypes maligning Black people and condemnations of interracial relationships. Some claimed that Black people married to Chinese people were "contaminating" China.
 Yaqiu Wang, senior China researcher at Human Rights Watch told The Messenger what struck her most in the research process was the extremity of racism.
"Racism is everywhere on the internet around the world for sure, but the kind of stuff people say and the kind of videos people post on the Chinese internet is just absolutely appalling," said Wang.
Human Rights Watch says it reached out to the social media companies in June about their policies on anti-black racism. Bilibili, Kuaishou, Weibo, and Xiaohongshu did not respond.
Douyin's parent company, ByteDance, which also owns TikTok, removed a single video flagged by Human Rights Watch, but did not act on several other flagged videos. The posts appeared to be in violation of the platforms' own terms of service.
More than a billion people collectively use the platforms analyzed. Weibo alone has 255 million daily active users and Douyin is expected to cross 700 million users this year.
Wang said users can report racist content to platforms, but in speaking with Black people who are living or recently lived in China, Wang said when they reported content, platforms often responded with automated messages saying the content is not in violation of their guidelines.
"One must understand this in the context that the Chinese social media platforms are very quick, efficient in removing content and suspending accounts that are critical of the Chinese government," said Wang. "So they have the capacity to address racist content, it's just that they don't have the willingness to do so."
Human Rights Watch claims that the responsibility to address anti-Black racism extends to the Chinese government, which has been inconsistent in its approach, according to the group.
China is part of the The International Convention on the Elimination of All Forms of Racial Discrimination (ICERD), which mandates countries  "condemn racial discrimination" and pursue "eliminating racial discrimination in all its forms and promoting understanding among all races."
However, Human Rights Watch pointed out that state television in China has featured skits involving Chinese actors in blackface as recently as 2018, and used lines like, "China has done so much for Africa" and "I love Chinese people! I love China!"
"The Chinese authorities should acknowledge this is a big problem," said Wang.
"The Chinese government does so much propaganda everyday condemning anti-Black racism in the US and Western imperialism, but refuses to look at anti-Black racism inside its own country. The level of hypocrisy is ironic."