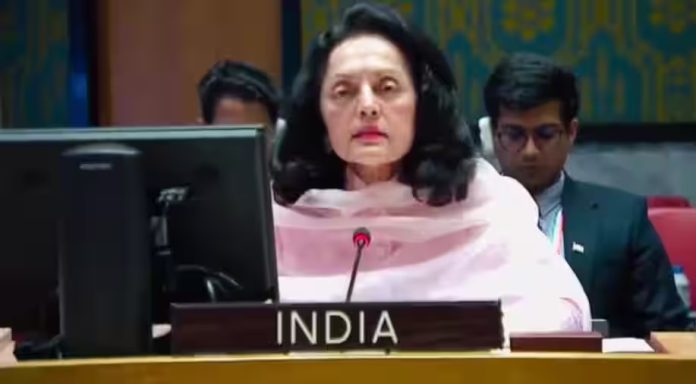 Taking a veiled swipe at China and Pakistan, India slammed the attempts being made at blocking the "evidence-based" proposals to blacklist globally sanctioned terrorists in the United Nations Security Council (UNSC).
Calling for urgent reforms of the top UN body, India's Permanent Representative to the UN Ambassador Ruchira Kamboj on Tuesday (Sept 5) said that the working methods of UNSC are denting its credibility.
Speaking in the Security Council's open debate on Working Methods, Kamboj said, "Genuine, evidence-based listing proposals for globally sanctioned terrorists to be blocked without giving any due justification is uncalled for, and smacks of doublespeak when it comes to Council's commitment in tackling the challenge of terrorism."
She asserted that the working methods of Sanctions Committees must emphasise transparency, and objectivity in listing and delisting and should not be based on political considerations.
China in past objected to India's bids
Kamboj was referring to China blocking a proposal moved by India and US to designate Pakistan-based LeT leader Sajid Mir, wanted for his involvement in the 26/11 Mumbai terrorist attacks, as a "global terrorist" in the UN.
There have been several instances where China had intervened in blocking bids by India and its allies to list Pakistan-based terrorists.
"What we need is a Security Council that better reflects the geographical and developmental diversity of the United Nations today. A Security Council where voices of developing countries and unrepresented regions, including Africa, Latin America and the vast majority of Asia and Pacific, find their due place at this horseshoe table," Kamboj said.
She said that an expansion of the council in both categories of membership is absolutely essential.
"This is the only way to bring the Council's composition and decision-making dynamics in line with contemporary geo-political realities," Kamboj said.
Expansion of UNSC membership 
"If countries are truly interested in making the Council more accountable and more credible, we call on them to come out openly and support a clear pathway to achieve this reform in a time-bound manner, through the only established process in the UN, which is by engaging in negotiations based on text and not through speaking at each other, or past each other, as we have done for the last three decades," she added.
The Security Council has five permanent members — the United States, China, France, Russia, and the United Kingdom — collectively known as the P5.
The 10 elected members of the Security Council are commonly referred to as the E10.
Among the strong contenders for permanent members has been India, which has found support from almost all permanent members, except China.