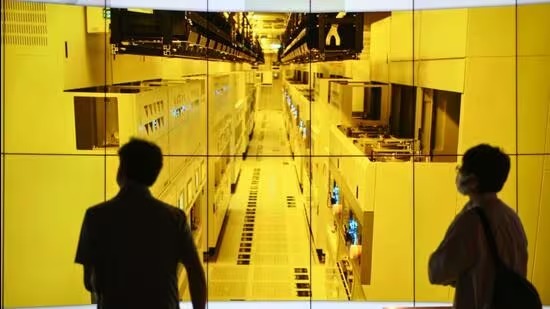 NEW DELHI: India and Taiwan are looking to sign an agreement on migration and mobility as early as next month to help the island overcome a shortage of workers in areas such as manufacturing, construction projects and agriculture, people familiar with the matter said.
The draft memorandum of understanding on migration and mobility was finalised after negotiations between the two sides after Taiwan expressed an interest in hiring Indian workers in several sectors, the people said on condition of anonymity. Firms from Taiwan are interested in hiring people from India's northeastern states, they said.
The move coincides with growing trade ties between the two sides. Two-way trade has grown more than seven-fold from $1.19 billion in 2001 to $8.4 billion in 2022. India currently ranks as Taiwan's 14th largest export destination and 18th largest source of imports.
The people said Taiwan currently faces a shortage of workers in four main areas – manufacturing, including factories, construction projects, household workers, and agriculture and fisheries. India is among the countries that Taiwan is looking at to overcome the shortfall.
Foreign workers in Taiwan are paid the same wages as local labour and have access to similar national healthcare facilities, the people said. The current monthly minimum wage in Taiwan is 26,400 New Taiwan dollars (about $820).
Among the reasons that Taiwan has focused on workers from India's northeastern states is the similarity of culture and diet, the people said.
The signing of two memorandums of understanding on migration and mobility and traditional medicine figured in a recent meeting between Taiwan's Premier Chen Chien-jen and the new director general of the India Taipei Association, Manharsinh Laxmanbhai Yadav, who took up the position in August.
The MoUs and Taiwan's move to establish a new office in Mumbai are "both good steps and demonstrate there is great potential in the India-Taiwan relationship", Yadav was quoted as saying in a statement issued by the premier's office.
While India and Taiwan don't have formal diplomatic relations, both sides established representative offices in each other's capitals in 1995. Besides the Taipei Economic and Cultural Center (TECC) in New Delhi, Taiwan set up an office in Chennai in December 2012 and recently announced plans to enhance its official presence in the country by setting up a new office in Mumbai.
India has the India-Taipei Association (ITA) office in Taipei and these facilities on both sides function as de facto missions and are responsible for promoting cooperation in trade, investment, science and technology, tourism and education.
The growth in India-Taiwan relations has coincided with New Delhi's ties with China falling to a six-decade low over the military standoff on the Line of Actual Control (LAC).