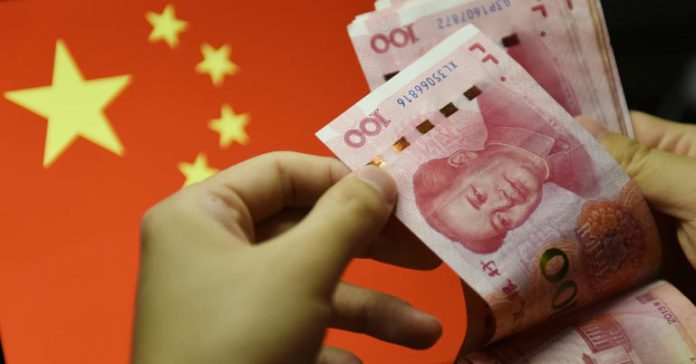 China's small economic rebound appears to have stalled in September, with retail sales and pricing power as well as manufacturing production and loan growth weaker than the print for the month before, according to the monthly China Beige Book survey released Friday.
This setback will inflame fears of anemic third-quarter growth, escalating the risks of the world's second-largest economy falling short of the central government's stated 5% growth target. Economists still currently expect September data to remain relatively soft, with most data pointing to a further stabilization in the slowdown.
Several August economic indicators underscored nascent signs of stabilization in the slowdown in the Chinese economy. Official retail sales and industrial production data last month had in fact, beat expectations, corroborating encouraging signs from other data points — from inflation rates to the purchasing managers index, typically seen as leading indicators.
"Retail spending slowed [in September]. Food saw the biggest pullback alongside luxuries," the China Beige Book survey administrators said in a statement Friday. "Services 'revenge spending' had mixed results: travel came in strong as the Moon Festival approached, but sales decelerated sharply at hospitality firms and chain restaurants."
China Beige Book's administrators said its September findings were based on a survey of 1,330 firms, evenly split between private and state-owned enterprises, but featuring slightly more large firms than small and medium-sized enterprises.
On Friday, China kicks off an annual week-long holiday marking the country's National Day on Oct. 1, which this year coincides with the Mid-Autumn Festival, also known as Moon Festival or Harvest Moon Festival. Outbound travel has surged in the first "Golden Week" holiday since international travel resumed. Trip.com said bookings for some foreign destinations increased 20 times compared to the same holiday period last year.
Property malaise
Among the more significant findings in this privately administered survey, corporate borrowing fell back to "very low levels" as loan rejections and average loan rates spiked despite several moves from the People's Bank of China to lower the cost of borrowing.
Mainland lenders are more vigilant about risk exposure amid fears of broader contagion from the debt issues plaguing Chinese real estate developers stemming from a broader crackdown, according to the China Beige Book survey, released ahead of the monthly tranche of official China data.
Beijing is due to release its official purchasing managers index Saturday. Money supply data is scheduled for Oct. 11, while monthly inflation and trade data is tentatively due Oct. 13. A slew of activity data and China's third-quarter growth print is expected Oct. 18.
China's beleaguered property sector showed signs of further deterioration in September.
"Home builders said prices contracted outright this month as sales slowed. Realtors reported weaker prices, and sales flattened despite a sizable drop in mortgage rates," China Beige Book said.
"Commercial property's troubles deepened, with price gains narrowing sharply and the pace of transactions sliding hard alongside," the survey administrators added. They said their proprietary Fiscal Activity Index turned positive, but the results to date are "closer to life support than a breath of fresh air."
Subdued factory activity
Export order growth among survey respondents declined to its weakest since March — underscoring the external pressures on China from slowing demand globally piling onto the country's struggles with anemic domestic demand.
This comes as the onshore Chinese yuan has fallen by about 5.5% against the dollar year to date. In a Wednesday statement after a quarterly meeting of its monetary policy committee, the People's Bank of China repeated a pledge to "resolutely prevent currency overshooting risks and keep the yuan basically stable at a reasonable equilibrium."
That said, even though domestic orders held their pace, output growth edged lower compared to August. China Beige Book's revenue index slipped in September, suggesting profit gains weakening more noticeably compared to August.
Still, the private survey found that even though inflation likely slowed in September — with its input cost, sales price, and wage rate indexes all falling from last month — price gauges were higher than a year ago while input cost inflation remained on par.
"Reports of China facing deflation remain exaggerated," China Beige Book survey administrators said.