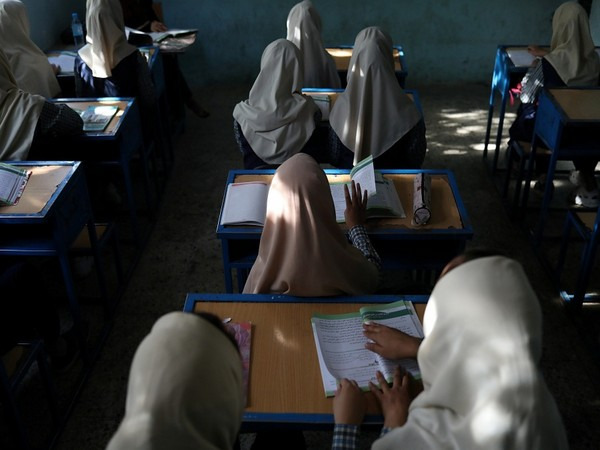 Muzaffarabad [PoK], March 17: Pakistan's Islamist political party, Jamaat-i-Islami (JI) on Friday staged a demonstration in Pakistan-occupied Kashmir supporting the government's decision to make hijab a compulsory part of the uniform for female students and teachers in the region, reported Dawn.
"Hijab is part of my faith; Hijab is our pride," read some of the placards of activists of the women's wing of Jamaat-i-Islami which they were holding during the demonstration staged on a main thoroughfare outside Press Club Muzaffarabad.
Appreciating the Pakistan Tehreek-e-Insaf (PTI) government for the decision, they castigated the opposition Pakistan People's Party (PPP) lawmakers for tabling an adjournment motion against it "in the name of civil liberties and personal freedom," reported Dawn
The PoK's education department's order on March 6 specifically targets co-education schools where girls and women teachers in rural areas are merged with the boy's schools since their numbers and school infrastructure do not match the requirements. The decision applies to all female students and teachers.
Speaking to reporters, Faiza Saleem, an office-bearer of the JI women's wing, maintained that "since the 99 per cent population of the liberated territory comprised Muslims with a strong attachment to religion, the decision by the education minister was exactly in accordance with the teachings of Islam and sentiments and aspirations of the local people."
She said that it was deplorable that the PPP legislators opposed the move by tabling an adjournment motion against it in the Legislative Assembly.
The introduction of mandatory hijab in educational institutions across Pakistan-occupied Kashmir (PoK) is a move towards Talibanisation of the region, said Dr Amjad Ayub Mirza, an author and a human rights activist from Mirpur in PoK.
Jamat e Islami has been active in PoK for decades and is founded on the slogan 'Kashmir Banay Ga Pakistan' (Kashmir with become Pakistan).
Moreover, Pakistan is facing economic bankruptcy and it has cancelled most of the subsidies and development funds for both PoK and Gilgit-Baltistan.
Therefore, both heads of government in PoK and Gilgit-Baltistan are facing the wrath of their indigenous people who consider them as stooges of Pakistan military establishment.
For almost three years now, protests against load shedding, shortages of wheat and water, increased progressive taxation and land grab by the Pakistan military has been a daily occurrence.