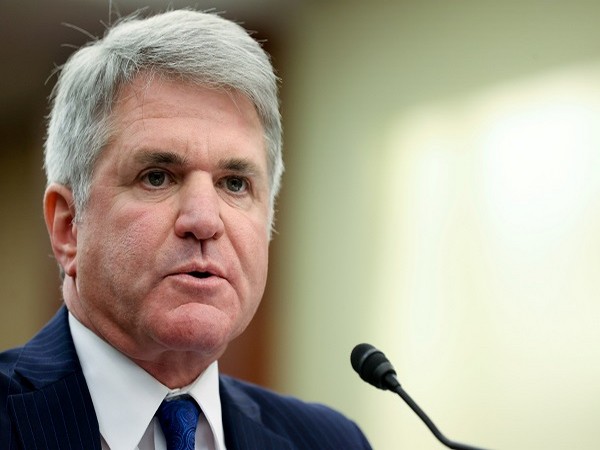 Taipei [Taiwan], April 4: Michael McCaul, chairman of the Foreign Affairs Committee in the United States House of Representatives, is expected to arrive in Taiwan on Thursday. During his visit, Michael McCaul will hold a meeting with Taiwanese President Tsai Ing-wen.
Apart from his meeting with Taiwanese President, Michael McCaul, and his delegation is due to hold a discussion with the members of the Legislature's Foreign Affairs and National Defence Committee to have a better understanding of the threats and challenges faced by Taiwan, Focus Taiwan reported citing Democratic Progressive Party lawmaker Wang Ting-yu, who is a member of the committee.
According to the news report, the delegation led by McCaul has already departed from the United States for Japan. The delegation will head to South Korea before visiting Taipei. The members of the delegation are likely to meet Taiwanese President Tsai Ing-wen on April 8, the report cited an unnamed source.
Earlier, in February, Republican Party leader Michael McCaul announced that he planned to lead a bipartisan delegation to Taiwan in the spring this year. At the time, he said, "I think it's important to show China that we support Taiwan as a deterrence."
Asked about the impending visit on Monday, Taiwan's Foreign Ministry spokesperson Jeff Liu did not make a statement. Jeff Liu said that the Taiwan government welcomes visits by American lawmakers and will publicize any such information when the time is right.
Ties between China and US have been strained after the then-US House of Representatives speaker Nancy Pelosi visited Taiwan in August last year.
During his visit to Seoul, Michael McCaul will hold a meeting with South Korean President Yoon Suk-yeol to discuss further cooperation in response to the threats from North Korea, Focus Taiwan reported.
Meanwhile, US House of Representatives Speaker Kevin McCarthy is likely to call on Taiwan President Tsai Ing-wen on Wednesday amid warnings from China, CNN reported. McCarthy's office shared details of the meeting in a release on Monday. Tsai is on a visit to Central America that includes stopovers in the US.
McCarthy will host a bipartisan meeting with Tsai Ing-wen at the Ronald Reagan Presidential Library in California. The bipartisan group will include Representative Pete Aguilar of California, who is a member of Democratic leadership, and the leaders of the select committee on China, among others.
After reaching New York City last week, Tsai said that Taiwan's ties with the United States has "never been closer."
Last week, China's charge d'affaires Xu Xueyuan said that Tsai's presence in the US could result in a "serious" confrontation in the US-China relationship and have a "severe impact" on the ties between the two nations.