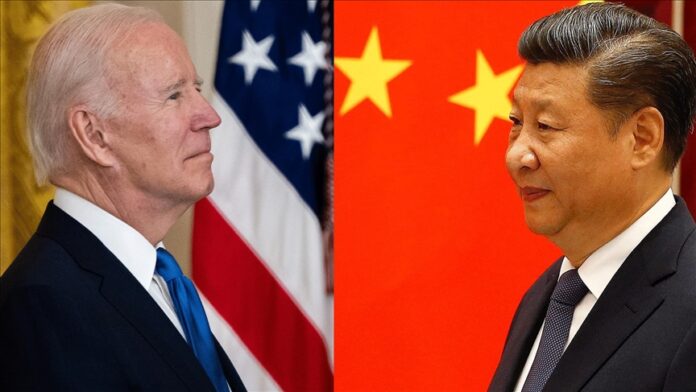 Washington [US], March 14: US President Joe Biden plans to hold a telephone call with his Chinese counterpart Xi Jinping to ease tensions that flared following last month's discovery of a Chinese spy balloon over sensitive military sites and Xi's criticism of the United States this month, the Washington Post reported.
US national security adviser Jake Sullivan said, "President Biden has indicated his willingness to have a telephone conversation with President Xi once they're back and in stride coming off the National People's Congress."
"I can't give you a date because there's no date set," Sullivan told reporters aboard Air Force One traveling to San Diego for an announcement about AUKUS.
Japan Times reported that when a reporter shouted a question about whether he would speak with Xi, Biden answered "yes".
Similar remarks were made by Sullivan on Friday. Asked then if the Chinese had agreed to the call, he said: "I won't characterize their position at this point."
Separately, a US official said that Sullivan was "trying to signal" willingness to re-engage. "I know the president wants to be clear that we want to keep the lines of communication open."
The official, who spoke on the condition of anonymity due to the matter's sensitivity, said it is likely that a conversation between the two leaders will eventually take place. But, the official cautioned, "it takes two to have a call", The Washington Post reported.
Biden, Xi's last phone call took place in July 2022, during then-House Speaker Nancy Pelosi's planned trip to Taiwan. The leaders last met face-to-face in Bali in November, which appeared to have lowered tensions. Biden announced then that he was sending Blinken to Beijing to follow-up on the discussion.
The discovery of what the United States says was a Chinese military spy balloon gathering intelligence over sensitive military sites in February led the Biden administration to cancel a trip by Secretary of State Antony Blinken to Beijing just hours before he was due to leave.
Sullivan when asked about prospects for a rescheduled trip, said: "Secretary Blinken has indicated that he's prepared to travel to Beijing when he can have a productive trip. A lot of that depends on Beijing and their attitude."
The US National Security Advisor rejected suggestions that the administration was holding up the trip "as some kind of punishment. At this point, we would like to see high level engagement. … We just need to make sure that we come to some understanding with the PRC [People's Republic of China] about when that can happen in a way where the two sides can have a constructive dialogue."