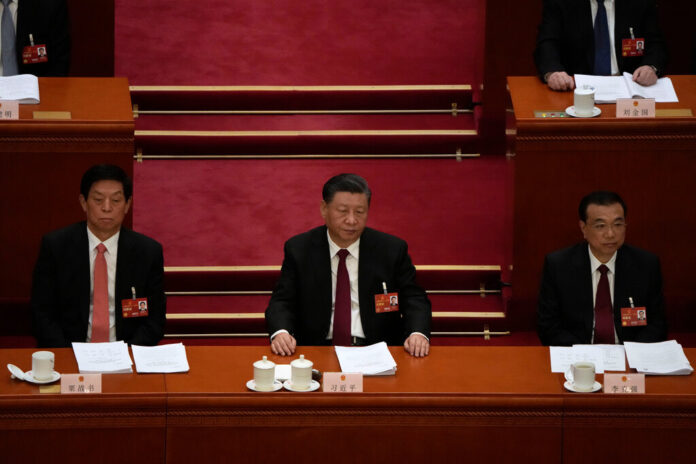 Xi Jinping is on the political march again. After a turbulent year that ended in faltering growth, widespread protests, and a surge of deaths after China abruptly abandoned Covid controls, China's top leader is poised to secure even more power at the annual gathering of the national legislature that opened on Sunday.
At the start of the National People's Congress, the Chinese government laid out a post-Covid agenda centered on reviving the economy with a 5 percent growth target, raising spending on military, education and social needs, and augmenting Mr. Xi's already formidable influence.
The nearly 3,000 carefully selected delegates to the legislature, who are meeting for nine days in Beijing, are set to appoint a new cohort of government leaders crowded with Mr. Xi's loyalists by the end of the congress. They are also expected to approve a bureaucratic reorganization that will further concentrate policymaking under Mr. Xi and the party.
"Xi is back, and he has wasted no time in arrogating more powers to himself," said Willy Wo-Lap Lam, a senior fellow at the Jamestown Foundation, who studies Chinese politics. Mr. Xi and other leaders had calculated that they could pull back Covid controls — and endure a wave of what may have been a million or more deaths across China — without unleashing a long, severe political crisis, Mr. Lam said.
"The leadership made this big gamble on this about-face on pandemic policy," Mr. Lam said, "and the gamble has, at least on the surface, worked out so far politically, despite all the deaths in the first month of the reversal."
Since the collapse of its stringent "zero Covid" policy in December, the Chinese leadership has shifted its focus to restoring growth and creating jobs, seeking to reassure private businesses that they are a vital part of the national economy.
The question hanging over China is whether Mr. Xi can instill economic confidence, especially among private investors, while continuing to expand the Communist Party's control over the country, as he has signaled he will do.
"He has not fundamentally given up on his original goals; it's a temporary tactical retreat," Minxin Pei, a professor at Claremont McKenna College who studies Chinese politics, said in an interview. "But in order to get the economy truly back on track, he needs to convince the skeptics that he's now for real."
Mr. Xi also wants to elevate China into a technologically advanced superpower capable of standing up to Washington as a peer, a vision that he now calls "Chinese-style modernization." In a recent speech, he suggested that any pragmatic shifts in policy must not be seen as a U-turn from those grand goals.
"We must keep our eyes fixed on the great issues that bear on the rise or fall, success or failure, of the party and country, and that could shake everything with one touch," he told a meeting of recently promoted party officials last month. "We need to organically meld strategic principle with tactical flexibility."
In a sign of Beijing's concern about the challenges of reinvigorating the economy, the premier, Li Keqiang, said that China would aim to expand growth by "around 5 percent" this year, a relatively modest target. Exports have faltered this winter as global demand has stalled, while it is unclear if China's consumers can help sustain a recovery, and business confidence is weak.
"Uncertainties in the external environment are on the rise," he told the congress. "At home, the foundation for stable growth needs to be consolidated, insufficient demand remains a pronounced problem, and the expectations of private investors and businesses are unstable."
Many economists regard 3 percent, China's official growth rate last year, as an overstatement of the true performance of the economy, which had been smothered by stringent "zero Covid" measures and spreading pandemic lockdowns.
After a dismal December, the economy has shown signs of a recovery. Shopping areas are again crowded, and factory activity is having its strongest acceleration in more than a decade.
Li Bin, a 35-year-old technician in Tianjin, said during a lunchtime riverside walk on Friday that he had barely ventured out of his home for the past three years except to work. But in recent weeks, he said, "I have saved less, felt free, eaten more, gone out to play more, and returned to normal activity."
To help revive economic growth, China has eased its drive to rein in property developers, whose high debt levels are seen as a risk to the wider economy. The government has signaled that its regulatory crackdown on Big Tech had achieved its objectives.
Seeking to lower tensions with the United States, Mr. Xi held talks with President Biden in November aimed at arresting the countries' slide toward a new cold war. But the relationship has only deteriorated since then. Beijing gave little ground after the Biden administration accused it of flying a spy balloon over the United States. Last month, Washington accused Beijing of considering sending lethal support to help Russia's war in Ukraine, a claim Chinese officials have rejected.
Beijing sees the United States as trying to contain China's rise, but it does not want the rivalry with Washington to slip out of control, said Chao Chun-shan, a Taiwanese political science professor who recently visited China and met senior Chinese officials.
"Almost everyone I met told me that the United States will not permit a powerful China by its side, especially in the Indo-Pacific region," Professor Chao said. Their strategy, he added, is: "Contesting without tipping into a rupture."
In a sign of the importance Beijing places on asserting its position in the world, the government also plans to raise its military budget by 7.2 percent, which would increase spending to nearly $225 billion, despite the strains that might impose on state finances. Spending on the foreign ministry and other diplomatic efforts will grow even faster, by 12.2 percent.
Mr. Xi has also urged his party to take a more hands-on approach in developing the country's science and technology capabilities to reduce its reliance on Western expertise. This directive has become more urgent as the United States has tightened restrictions on exports to China.
Mr. Xi also sees extending and cementing his own power as necessary to ensuring China's ascent in an increasingly perilous world.
The congress will almost certainly give him a groundbreaking third term as state president, atop his main title of Communist Party general secretary. And Mr. Xi will also use the congress to reorganize state ministries and agencies, centralizing more policymaking around him and the party.
Scholars have said that the plan may include a new homeland security commission that will integrate police and state security agencies, reflecting Mr. Xi's emphasis on a national security state.
China's police and state security forces are already firmly in the grip of the Communist Party, and Mr. Xi has also built a National Security Commission to help extinguish threats, especially challenges to Communist Party power. The new homeland security commission may, however, try to bring greater cohesiveness to this collection of agencies.