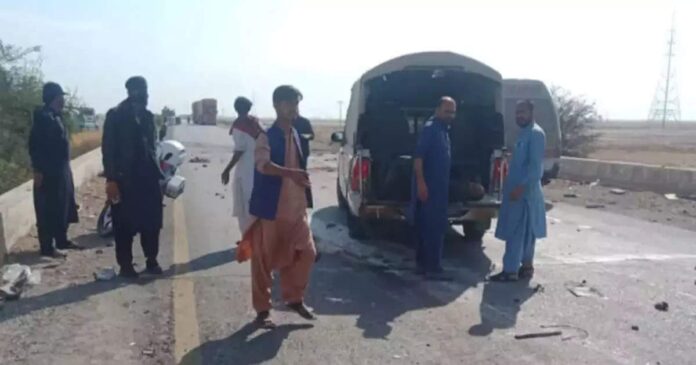 Balochistan [Pakistan], March 6: At least nine personnel of the Balochistan Constabulary were killed, while nine others sustained injuries in a suicide bomb attack in Bolan.
Senior Superintendent of Police (SSP) of Kachhi, Mehmood Notezai, said that the preliminary evidence suggests it was a suicide attack, however, the exact nature of the blast could be ascertained after the investigations.
He said that a bomb disposal team reached the site of the incident and the area is being searched after the explosion.
According to the police, the blast occurred near the Kambri bridge area of Bolan and the injured are being shifted to Divisional Headquarters Hospital, reported Geo News.
Pakistan is facing violence from Tehrik-e-Taliban Pakistan (TTP), an offshoot of the Afghan Taliban movement that is ideologically aligned with the Afghan branch but draws its leaders from within Pakistan.
The TTP has claimed responsibility for many attacks in the latest spate of terrorism in Pakistan; a TTP splinter group said it had carried out the January 30 mosque attack in Peshawar that killed 101 worshippers, most of them policemen, reported Foreign Policy.
More than 8,000 members of Pakistan's security forces have lost their lives in terrorist incidents since 2000. In 2014, the TTP attacked Peshawar's Army Public School, killing 141 people, including 132 children of military officers and soldiers.
The January 30 attack targeted policemen. Both attacks appeared intended to demoralize the Pakistani military and law enforcement and to dissuade Pakistan's leaders from going to battle with the TTP.
Periodic negotiations between the Pakistani government and terrorist groups in recent years have only convinced the terrorists that the authorities lack the resolve for a sustained fight.
Several peace deals and cease-fire agreements between Islamabad and the TTP have broken down. Last November, the TTP terminated the latest cease-fire, negotiated last June, and threatened new attacks across Pakistan in retaliation for the security service's actions.