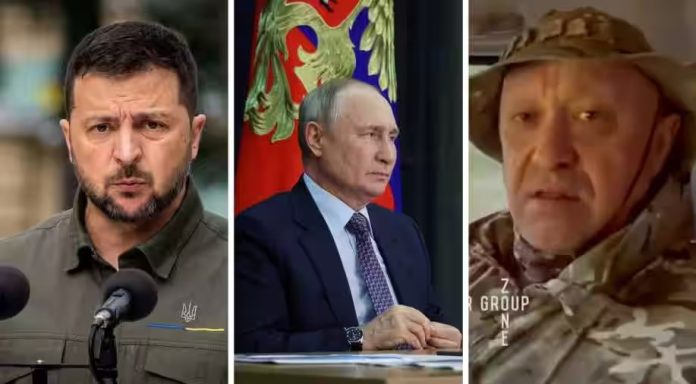 Ukrainian President Volodymyr Zelensky, on Friday (September 8), accused Russian President Vladimir Putin of killing Wagner chief Yevgeny Prigozhin who died in a plane crash in the month of August.
He underlined that the incident showed that the Russian leader was now politically weak.
"The fact that he killed Prigozhin – at least that's the information we all have, not any other kind – that also speaks to his rationality, and about the fact that he is weak. It is important that he became politically weak," Zelenskiy said in a speech.
On August 23, Wagner mercenary group chief Prigozhin lost his life along with nine others in a plane crash that departed from Moscow for Saint Petersburg.
Who all died in the crash? 
Russia's Federal Air Transport Agency released the names of two pilots and one flight attendant who lost their lives in the deadly crash. The agency cited the airline to confirm that Captain Aleksei Levshin, co-pilot Rustam Karimov, and flight attendant Kristina Raspopova died.
The agency also released the names of those who were onboard, apart from Prigozhin. The list includes Sergey Propustin, Evgeniy Makaryan, Aleksandr Totmin, and Nikolay Matuseev. Two names stood out — Valeriy Chekalov and Dmitry Utkin.
Chekalov was a senior aide to Prigozhin designated by the US Treasury for acting "for or on behalf of Prigozhin and has facilitated shipments of munitions to the Russian Federation". On the other hand, Utkin was Prigozhin's right-hand man who helped establish the mercenary group and bore the call sign "Wagner".
Prigozhin expressed risks to his life in video
In a video that was released late last month, Prigozhin could be seen speaking about speculations over his well-being and possible threats to his security. He said that he was in Africa.
In the short video published by the Grey Zone Telegram channel which is linked to his Wagner Group, Prigozhin is seen sharing: "For those who are discussing whether I'm alive or not, how I'm doing – right now it's the weekend, second half of August 2023, I'm in Africa."
"So for people who like to discuss wiping me out, or my private life, how much I earn or whatever else – everything's ok," he added.
While decoding the details of the video, it was found that it was indeed filmed in Africa as his camouflage attire, hat, and the watch on his right hand matched his appearance in a video released on August 21, which he also claimed was filmed in Africa. WION can't independently verify the video.
The reference to "weekend" in the video implied the latest clip must have been made on August 19 or 20, just three or four days before Prigozhin and other top Wagner figures and bodyguards were killed in the crash.
Kremlin has denied any involvement but there have been claims and counterclaims. However, Prigozhin's comments in the video reflect his awareness of the risks to his life.