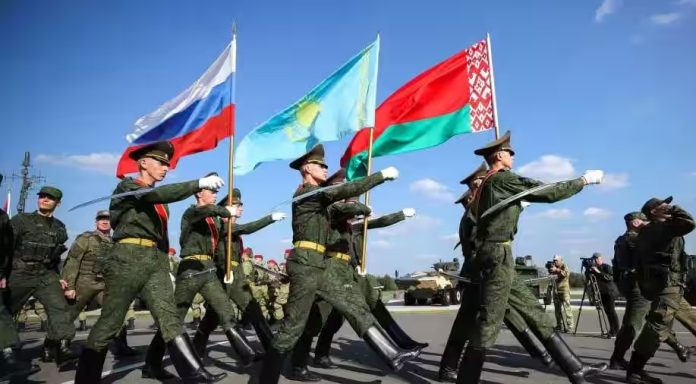 The Russian military has reportedly withdrawn a regional task force from neighbouring Belarus. This withdrawal has drawn attention from Ukrainian border authorities and independent Belarusian war monitors, shedding light on the evolving dynamics in the region.
Background: Lukashenko's deployment
The backdrop to this withdrawal lies in Belarusian President Alexander Lukashenko's announcement in October 2022. Lukashenko had asserted the need for a joint regional group of military forces, citing concerns over Ukraine's alleged preparations for an attack on his country. This move set the stage for heightened tensions in Eastern Europe.
Ukraine's perspective
Recent statements from the State Border Service of Ukraine indicate that "almost all" of Russia's forces in Belarus have undergone a rotation, signaling a notable shift in the military landscape. According to spokesperson Andrii Demchenko, there have been no additions to the Russian troop presence in Belarus. Consequently, Ukraine perceives the current Russian troop numbers in Belarus as not constituting an immediate threat of a northward invasion into Ukraine.
The withdrawal timeline
The withdrawal process appears to have unfolded in stages. Russian personnel reportedly completed their exit from Belarus in early July, with the entire aviation group following suit in early August. This information comes from the Belarusian war monitoring project, Belarussky Hajun, which has been closely tracking these developments. Notably, this monitoring effort has listed 11 attack and transport helicopters, along with nine fighter jets, among the assets that have returned to their home airfields in Russia.
The Wagner mercenary outfit
A potentially significant factor in the regional dynamics is the presence of around 2,500 fighters affiliated with the Wagner mercenary outfit. These mercenaries had agreed to be stationed in Belarus following a failed mutiny during the summer. While other Russian forces have reportedly withdrawn, these fighters appear to remain stationed in Belarus. This situation has been reported by Russia's investigative outlet, iStories.
Notably, Russia's defence ministry has maintained silence regarding the reported withdrawal of its troops from Belarus. This lack of official comment adds an air of mystery to the situation, leaving room for speculation about the motives and implications of the withdrawal.
Lukashenko's role and accusations
Alexander Lukashenko, a longtime ally of Russian President Vladimir Putin, has faced accusations of facilitating Moscow's 2022 invasion of Ukraine. These allegations stem from the belief that he allowed Russian forces to assemble and launch attacks from Belarusian territory. Despite this, Belarus officially remains a non-belligerent in the ongoing conflict.
In a parallel development, Belarus has found itself targeted by Western sanctions, mirroring the measures aimed at Russia over its assault on Ukraine. These sanctions underscore the interconnectedness of the two nations' actions in the regional geopolitical landscape.