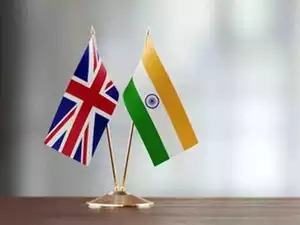 Senior government officials, sectoral experts and industry representatives came together in London for a first-of-its-kind discussion to explore synergies between India and the UK in the defence and military technology sector and work as a catalyst to enhance bilateral cooperation in the sphere.
The UK-India Defence and Military Technology Cooperation workshop, organised by the London-based think tank International Institute for Strategic Studies (IISS) in partnership with India's Bharat Shakti defence platform on Tuesday, explored collaborative defence research and industrial production partnerships between the two countries.
It covered topics such as the 'Evolving strategic context of UK-India defence relations', 'Perspectives on India's Atmanirbhar programme and the UK's defence technology partnerships' and boosting military and manufacturing partnerships against the backdrop of the India-UK 2030 Roadmap's focus on 'Defence and Security' as a key pillar of bilateral ties.
"This is very much part of what we are trying to achieve in the relationship, to move the strategic and defence pillar forward," said Indian High Commissioner to the UK Vikram Doraiswami, who delivered the opening remarks at the workshop.
"It is eminently doable and within our reach. The presence of so many distinguished folks suggests that there is a forward-leaning approach of His Majesty's government, and I can assure you it is fully reciprocated. We do want to develop this pillar further," he said during a post-event reception at India House in London.
A new, ambitious strategic collaborative partnership on research, innovation, technology and industry to develop transformational defence and security capabilities was flagged within the India-UK 2030 Roadmap, signed by Prime Minister Narendra Modi and his British counterpart, Boris Johnson, in May 2021.
Last week, a Defence Command Paper noted that the UK sought to "deepen industrial partnerships, move capability collaboration to new levels, and explore shared export opportunities", to build on the UK-India 2030 Roadmap.
"Yet, collaborative defence research and industrial production partnerships between the two countries remain, I believe, underwhelming; especially at a time when India is fast undertaking such ventures with the US and France. Clearly, much more could and needed to be done," said Rahul Roy-Chaudhury, Senior Fellow for South and Central Asia at IISS, who led the new initiative.
"The single most important objective of the workshop is to serve as a catalyst for change in the India-UK defence relationship by building mutual trust and identifying key opportunities for defence research collaboration and defence industrial partnerships," he said.
"This is to take place through a more sophisticated understanding of the evolving convergences in their respective foreign and security policies; identifying mutual defence capabilities and limitations along with national technological priorities; seeking to overcome challenges to building collaborative defence industrial partnerships; and ensuring a continuous process of high-level informal 'track 1.5' engagement between both countries," he added.
The workshop, held within this closed-door track 1.5 format, attracted high-level participation, including a drop-in by UK National Security Adviser (NSA) Sir Tim Barrow.
It is expected to become a regular feature in the bilateral calendar, with the next edition planned for New Delhi early next year and a third follow-up in London.
The key players at the workshop included Ambassador P.S. Raghavan, Chairman of the National Security Advisory Board (NSAB), Government of India; Matthew Collins, UK's Deputy NSA (Intelligence, Defence and Security); Dr Ajay Kumar, India's former Defence Secretary and Defence Production Secretary; Shimon Fhima, Director, Strategic Programmes, and David Williams, Permanent Secretary, at the UK's Ministry of Defence (MoD).
Other experts joining the workshop sessions included Dr G. Satheesh Reddy, former Scientific Advisor to India's Defence Minister and former chairman, Defence Research and Development Organisation (DRDO); Conrad Banks, Chief Engineer, Defence Future Programmes, Rolls-Royce plc; Nitin Gokhale, Founder and Editor-in-Chief, Bharat Shakti; Ashok Atluri, Chairman and Managing Director, Zen Technologies Limited; and Richard McCallum, CEO, UK India Business Council (UKIBC).