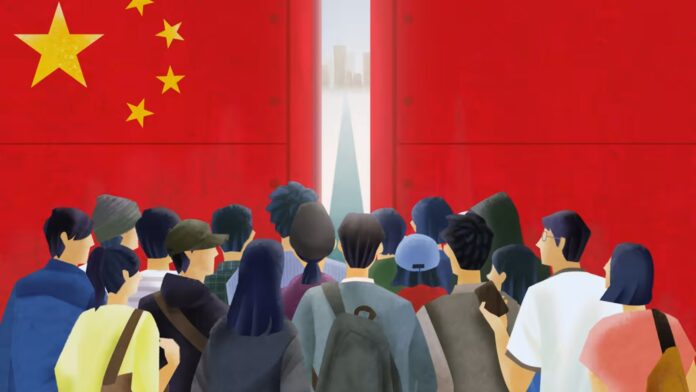 NEW YORK/SHANGHAI — New graduate Glonee Zhang had high hopes when he landed a job at a lithium battery company in Shenzhen last summer. Now, like more than one in five young people in China, he's out of work.
An English major entering a post-COVID working world, Zhang thought "the end of the pandemic would bring a bright future." Six months later, he and half of the firm's intake of 400 new grads were laid off when the company's sales slumped by 10% year-on-year.
"Sometimes I feel my soul is being torn apart," said a downbeat Zhang, getting by in the meantime doing odd jobs.
Caught between a long-running regulatory crackdown by Beijing on private enterprise, and a slide in hiring by foreign firms in the country, young people now face a record jobless rate of 21.3%. Since the official number only includes people actively seeking work, some economists say the percentage of young people not in employment, education or training could be significantly higher.
While the pandemic may have gone, its departure has unmasked a growing structural problem for President Xi Jinping and the Chinese Communist Party (CCP). The world's second-biggest economy is producing twice the number of graduates it did 10 years ago, with nearly 12 million this year – but not the jobs they're qualified to do.
"Over the years, China has expanded universities, but China is still a largely manufacturing [and services] based economy," Robin Xing, chief China economist at Morgan Stanley in Hong Kong, told Nikkei Asia.
"This is structural, because the economy itself is big, it's gradually changing. But it takes time for China to become a more advanced economy like Japan, South Korea and the U.S., which have more professional services dominating job creation."
In December 2019, before COVID struck, the youth jobless rate was 12.2%. Graduates like Zhang are now forced to consider continuing in higher education or trying for highly competitive but stable government jobs for which they are overqualified. Studying or working overseas is also an option for some.
As graduates' pessimism has grown over a youth unemployment rate that is nearly three times that of the U.S. and way higher than the euro zone's 14%, China's post-COVID economic recovery has sputtered. It recorded a quarter-on-quarter slowdown for April-June.
In a further sign of gloom among consumers like the millions of jobless grads with no wages to spend, retail sales grew just 3.1% last month from June 2022. That was also down sharply from a 12.7% rise in May, according to official data.
Amid fears of a slowdown, Beijing last week unveiled a broad plan it said would ease market barriers and access to financing that was among measures to raise the confidence of the private sector. On Monday China's state planning agency said it wants to attract more private capital to participate in national projects in sectors ranging from transport to water, clean energy, infrastructure, advanced manufacturing and agriculture.
Enodo Economics, a U.K.-based macroeconomic research firm, described Beijing's latest stance in a note as an "olive branch" to the private sector. But the firm questioned whether it really signaled "a change of heart away from subjugating the private sector to the needs of the Party."
The move comes after a softening of Beijing's tone on private enterprise after years of getting tough on what China saw as excess in sectors like technology, education and real estate. That drive stunted businesses that previously offered popular graduate openings, also undercutting entrepreneurialism, analysts said.
In March, Xi said the CCP "always regards private enterprises and private entrepreneurs as our own people." Just three years earlier, Xi sent entrepreneurs an ominous warning that they should "enhance their patriotism."
Well-paid private sector jobs have long been a prime target for many of China's graduates. According to a June report from the Asian Development Bank, up to six in 10 urban employed people between the ages of 16 and 24 work in the nation's private sector.
But on top of the regulatory crackdowns, foreign private businesses that provided sought-after jobs have drastically scaled back their presence as the West seeks to reduce its reliance on China. World Bank data shows net foreign direct investment in China slumped last year to its lowest since 1990.
"The jobs offered by multinational companies are diminishing, because of supply chain relocation," said Zongyuan Zoe Liu, a fellow for international political economy at the Council on Foreign Relations. "Multinationals are either considering scaling back their investment in China or simply pulling out of the Chinese market."
Before Beijing stepped up regulation, tech and education were among the most desired sectors for college students seeking well-paid jobs. In 2019, more than 80% of education workers were under 35 years, and over 90% held a bachelor's or master's degree, according to a job survey published by Chinese job hunting platform Liepin.
The education industry employed about 10 million people before money-spinning private tutoring services for elementary and middle school students in big cities were banned in 2021. What the government said was a drive to rein in swelling bills for families stopped a business generating tens of billions of dollars a year in its tracks.
Up to now, China's response to the jobless youth challenge had been resolutely old school, observers say.
Michelle Mengsu Chang, a junior fellow on Chinese economy at the Asia Society, said Beijing used similar tactics in the 1970s when millions of youths returned to cities from rural revitalization programs across the country. China did not have a private sector at the time, and state-owned collective enterprises were not able to absorb many unemployed workers.
"That is why you had the origins of the government allowing young people to become entrepreneurs," said Chang. "The country could not provide employment for them, so it was necessary to allow these people to make a living for themselves."
But for a different era, a different response is needed, according to Chang.
"When you hear people recounting the 1980s, the spirit of the time was very different, everybody sensed that China was becoming a more open place," said Chang. "Not today, the spirit is going in the opposite direction."
"Increasingly, people prefer stability, you sense a decline of the spirit of entrepreneurialism," Chang said.
With its new guidelines, the CCP says it aims to break down market access barriers for entrepreneurs, support and protect the rights of private companies and "cultivate and promote entrepreneurial spirit."
Effective or not, the guidelines signal that building back China's confidence in the private sector is on Beijing's radar at some level, economy watchers say.
"I believe a stimulus can help because it shows that they care about the economy and they care about the private sector," said Morgan Stanley economist Xing.
"Unleashing the growth potential requires that they treat the private sector in a fairly consistent and supportive fashion, for instance by providing a stable regulatory environment, so no-one will be concerned about a lot of random fatigue, regulation changes that may hurt their business."
In the meantime, disillusioned graduate Zhang now plans to join millions of unemployed like him by going back to school for postgraduate studies.
"Maybe that could help explore my potential and will," Zhang said, preparing for an entrance exam to read history of Western philosophy.