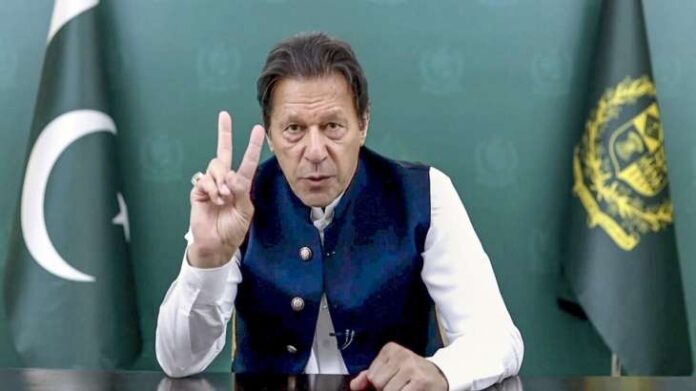 The Election Commission of Pakistan (ECP) on Monday issued a non-bailable warrant against former Prime Minister and Pakistan Tehreek-e-Insaf (PTI) Chairman Imran Khan in a contempt case. The commission directed the Islamabad Police to arrest and present Khan before it on Tuesday, Dawn reported.
Imran Khan, along with former information minister Fawad Chaudhry and others, was booked for allegedly using 'intemperate' language against the chief election commissioner and the electoral watchdog.
According to the warrant, Imran Khan repeatedly neglected to appear before the poll panel despite being served notices and issued bailable warrants on January 16 and March 2.
The poll panel has directed the Islamabad Inspector General to arrest Imran Khan and produce him before it on July 25 at 10 am.
The Election Commission initiated contempt proceedings against the PTI chief and two former party leaders last year.
Asad Umar, one of the accused, was excluded from the warrant after his counsel informed the ECP that his client had prior commitments, including another court case and a medical appointment, seeking an exemption from appearing.
Imran Khan has been grappling with numerous legal cases in various courts ever since he was ousted from power in April of the preceding year.
The Election Commission had requested their presence either in person or through their counsels to explain their stance in the matter. Instead of complying with the poll panel's request, the three individuals challenged the ECP notices and contempt proceedings in various high courts on legal grounds.
In January, the Supreme Court permitted the poll panel to proceed with the case against Imran Khan, Chaudhry, and PTI leader Asad Umar. Subsequently, on June 21, the commission decided to formally charge Imran, Fawad, and Umar in July.
During the hearing on July 11, none of the three individuals appeared before the commission, despite being summoned. Consequently, the ECP issued arrest warrants for Imran Khan and Fawad Chaudhry.