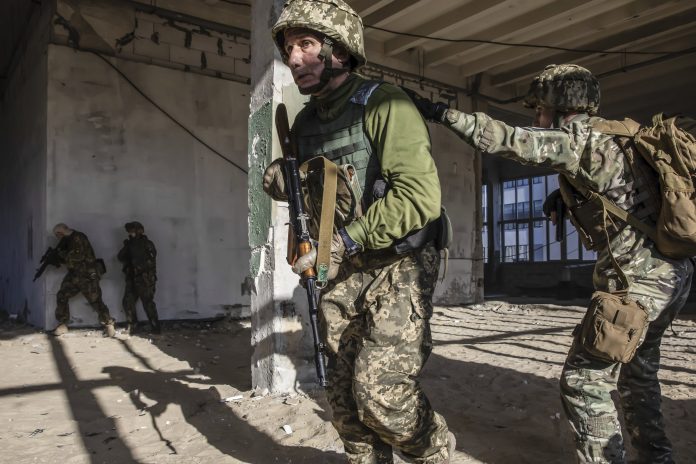 Ukraine lost nearly 40,000 soldiers over the last month since the counteroffensive began, and almost an equal number were wounded since the war started in February 2022, according to a leading US defense expert.
The commentator also blamed the US for dragging Kyiv into an unnecessary war by continuing to arm it. If it escalates, it risks drawing in the North Atlantic Treaty Organization (NATO), and Washington is woefully unprepared to take on Russia militarily in this eventuality.
This was stated by former US Army Armored Corps officer Colonel Douglas Macgregor in an interview with US media personality Tucker Carlson. Macgregor, who served as an advisor in the previous President Donald Trump administration, has been famously critical of the US and NATO policy in the war, which he believes provoked Russia.
He maintains that the mainstream media has been deliberately hiding Ukraine's tremendous losses and Russia's irreversible gains, military might, and generally strategic solid position.
Based on Macgregor's assertions, The EurAsian Times reported in February this year about Ukraine's massive casualties of 400,000 wounded and 1,57,000 killed. That piece emphasized the socio-economic dimension, where the losses of its falling population were high, beset with low birth rates over the last few years.
The situation, therefore, threatens to precipitate an oncoming economic crisis. The numbers, however, can't be independently verified owing to the ban on publishing figures on casualties in Ukraine and the traditional secrecy in Russia about revealing the numbers of its losses.
Ukraine Lost 40,000 In Its Failed Counteroffensive
According to Macgregor, in July 2023 alone, when Ukraine conducted the peak of its counteroffensive to "sweep the battlefield," 40,000 soldiers were killed. There are an equal number of amputees, for which Macgregor doesn't mention the period, but it can be assumed to correspond to the entire duration of the war.
"We know the hospitals are full and that Ukrainian units at the Company and Platoon level (150 to 200 men) are in piecemeal fashion surrendering to the Russians," he said.
"This is not because they don't want to fight, but they can't. Commanders say, 'If I can't evacuate my wounded, I'm going to surrender because otherwise the wounded will die.' So, they call the Russians on the radio, speak in Russian, and say I have 50-60 wounded, and I'm going to surrender because I don't want them to be killed.'"
"The Russians from the beginning have treated surrendering and captured Ukrainian soldiers fairly, and they know they are not going to be abused (and) will be exchanged for Russian prisoners in the future," Macgregor adds.
A previous report in the EurAsian Times about a Taiwanese volunteer's experience of fighting in Ukraine broadly reflects this state of affairs. The fighter recalled how his platoon was "almost wiped out twice." His unit had a casualty rate of 50 percent and a death rate of 20 percent. As far back as June 2022, President Volodymyr Zelenskyy and his top aide admitted that Ukraine lost around 100 soldiers daily.
Douglas' claim about Ukrainian surrenders also matches with interviews of captured and surrendered Prisoners of War (PoW) released by the Russian Ministry of Defense (RuMoD). From July 1 until August 19, the RuMoD has released videos of 58 such Ukrainian PoWs.
The soldiers complain about poor training, having to spend their own money for battlefield gear, forced mobilization by the Ukrainian governments that sometimes involved being pulled off the streets, neglectful superior officers who were rarely seen on the frontline and failed to provide reinforcements and support; heavy casualties in their units; and low morale.
US In No Position To Fight Russia
The army the West has so painstakingly armed is now "melting away," said Macgregor, comparing it to Russia's additional 300,000 ready, trained troops in the rear – beside the roughly 100,000 to 150,000 on the frontlines. The extra troops, however, will not be sent ahead since Putin is preparing for a situation where the US might intervene in western Ukraine.
That puts Russia on a warpath with the US and NATO, for which "Washington is not ready to fight the Russians." The readiness "and discipline that make soldiers fight" has been on a "steady, uninterrupted decline for a long time."
Reports from the US about the state of its defense manufacturing base that has been unable to meet Ukraine's hunger for artillery shells, forcing the Biden administration to send ordnance from the army's stockpiles and the massive recruitment crisis and falling confidence in America's military, can be taken as broad validations of Macgregor's assertions.
From a purely military capability and technology standpoint, US military leaders have repeatedly admitted how Russia and China have overtaken it in hypersonic and electronic warfare technologies.
Its preoccupations with unconventional wars with non-state actors for 20 years put it out of touch with conventional wars against professional militaries and has often been cited as the reason.
Ukrainian Hospitals Overwhelmed
Reports about the state of affairs in Ukrainian hospitals somewhat provide an on-ground insight in the absence of official figures from the government. A July 26, 2023 report in the Associated Press (AP) featured one of Ukraine's most prominent hospitals in Dnipro, Mechnikov, that reported an unending flow of war wounded overwhelming it.
Dr. Serhii Ryzhenko quotes the number of surgeries performed each night between 50 to 100, which the merely 50 operating rooms cannot handle.
"Mechnikov functions as a normal hospital, treating patients with cancer and other chronic diseases. But every night ushers in the same dreadful routine: Wounded soldiers arrive — many unconscious — and surgeons operate. The soldiers are then sent off to recover elsewhere to create space for the next nightly deluge," said the report.
"We hold our front line here, we understand that we must do this, we must hold on," the story quotes Dr. Tetyana Teshyna. Another AP report notes the establishment of several military hospitals in Kyiv, with the story featuring one such "top-level trauma center" receiving the most complex patients, who were stabilized at the front in a field hospital and transferred to the capital.
Therefore, establishing military hospitals in the capital indicates that Ukraine's public health system has naturally been stretched thin. India also sent humanitarian relief to Ukraine last year, a significant component of which was medicines, indicating the prevalent medical care infrastructure would be unable to cope with the ensuing military and civilian casualties.
Some reports blame Russian strikes on hospitals and maternity care centers. A February 2023 CNN story showed alleged Russian hits on hospitals since the war began at more than 250. "(That) left nearly one in 10 Ukrainian hospitals damaged, some repeatedly, according to new analysis reviewed by CNN by investigators from the United States, United Kingdom, Switzerland and Ukraine published," the report said.
Casualty Figures At Great Variance With Mainstream Media
Leading US media, however, vastly differ in their reportage of Ukraine's death and injured count. A New York Times (NYT) story said Ukraine has nearly 70,000 killed and 100,000 to 200,000 wounded. Russia's military casualties, the officials said, are approaching 300,000. The number includes as many as 120,000 deaths and 170,000 to 180,000 injured troops.
The Pentagon leaks earlier this year said Russia had suffered 189,500 to 223,000 casualties, including up to 43,000 killed in action. One document noted that as of February, Ukraine had suffered 124,500 to 131,000 casualties, with as many as 17,500 killed in action.
"The estimates vary so widely partly because of Ukraine's reluctance to disclose its wartime losses even to the American government. US intelligence analysts have also spent much more time focusing on Russian casualties than those of Ukraine, their ally," NYT said, quoting unnamed US officials.