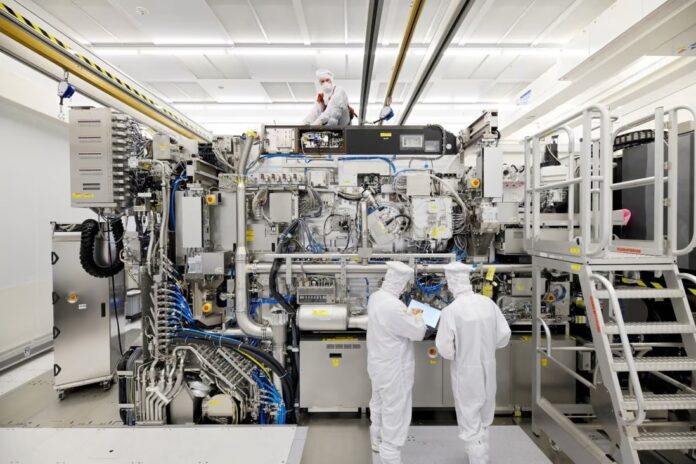 The Dutch government is planning to publish new export controls that will restrict more of ASML Holding's chipmaking machines from being sent to China as soon as next week, according to people familiar with the matter.
The measures, which the government previously pledged to publish before the summer, will not mention China or ASML but are designed to restrict the shipments of three models of the company's machines to the Asian country, Bloomberg previously reported. Lawmakers crafted the export-control regulation as a blueprint that can be used by other European Union member states and aim to publish it as soon as June 30 or in the first week of July, people familiar with the situation said, asking not to be identified because the plans aren't public.
A spokesperson for the Dutch government declined to comment.
US President Joe Biden's administration has been pressing the Netherlands and other nations to help stop China from further developing its own chip industry, making advances in technologies such as artificial intelligence and quantum computing and strengthening its military capabilities. The US rolled out its own extensive export curbs, restricting the sale of some advanced semiconductors and chip-making technologies to Chinese companies.
In January, Dutch and Japanese officials agreed in principle to join the US campaign. Together, the three countries are the world's top sources of machinery and have the expertise needed to make the world's most advanced semiconductors.
ASML, Europe's most valuable tech company, previously said the measures will "not have a material effect on our financial outlook" for 2023 or in the longer term. The company will need to apply for export licenses for shipment of some advanced deep ultraviolet lithography, or DUV, systems.
The restrictions are expected to prevent shipments of the TWINSCAN NXT: 2000i, the NXT: 2050i and the NXT: 2100i, which are all immersion DUV models, Bloomberg previously reported. ASML is already prohibited from selling its most cutting-edge technology, so-called extreme ultraviolet lithography, to Chinese companies.
"The Netherlands considers it necessary on national and international security grounds that this technology is brought under control as soon as possible," Dutch Trade Minister Liesje Schreinemacher had said in a letter in March.
The measures, however, fall short of those the Biden administration took last year to limit exports of American-made machinery and know-how to Chinese chip makers.
Dutch Prime Minister Mark Rutte's government is facing increasing pressure from Washington to help forge a global blockade to stifle Beijing's rise in the chip-making space. But his country's most valuable company is ASML Holding, and China is one of its biggest customers.
Rutte's situation in some ways mirrors the position that ASML's Chief Executive Officer, Peter Wennink, is facing himself – beholden to the Netherlands's close ally as tensions rise between the US and China, while trying to protect a key source of growth.
Wennink repeatedly argued US-led export control measures against China could eventually push Beijing to successfully develop its own technology in advanced chipmaking machines.
"The more you put them under pressure, the more likely it is that they will double up their efforts" in building lithography machines that can rival those of ASML, he said in an interview with Bloomberg in January at the company's headquarters in Veldhoven.
"The laws of physics in China are the same as here," Wennink said.