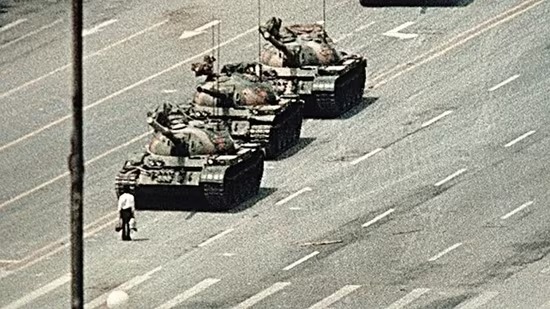 China's efforts to whitewash the 1989 Tiananmen Square massacre are not new. Every year, the Communist regime unleashes its full might to enforce censorship especially on the internet to block any mention of the gruesome killings on June 4 that year. This year, the censorship 'firewall' is slightly more stringent than the previous ones.
As per a submission by Twitter user @whyyoutouzhele, Chinese social media platform Tik Tok has issued an online advisory to the users asking them to avoid certain content like "candle-lighting emojis" , "numbers of unknown meaning", "slogans", "tanks" "old photographs with a sense of age" "content containing elements such as crowd gathering , mention of Tiananmen Square, Victoria Harbour, the summer palace" etc.
According to media reports, all internet platforms including Weibo, WeChat, Xiaohongshu, bilibili and others were heavily censored and scrutinised by China around June 4. To avoid being tagged by 'offensive' content around Tiananmen Square, name of top Communist Party officials were replaced by figurative symbols. For example, Chinese president Xi Jinping was mentioned as '*'.
But it seemed that the Chinese regime could not completely black out internet on the Tiananmen anniversary. There are netizens in China who display resistance to remember the victims and came up with innovative methods.
Some of them repost their Weibo accounts, some comment on "don't forget" and "year after year " under the music software "international song" and some just ask each other as to what happened in 1989 on the state owned chatbot.
Even the foreign embassies in China used metaphors to keep the memory of June 4 massacres alive and used satire against the Jinping government. The German embassy in China posted a video with candles in the early hours of June 4, which was deleted less than ten minutes after it was posted.
According to report, the British Embassy in China posted a front page clipping from the People's Daily on June 4 1989 with the caption "Although China has banned any public discussion of the tragic events that took place on 4 June 1989, we are posting this image on social media today as a way of showing that the party media did, in fact, report on the incident. Although China prohibits any public discussion of the tragic events on 4 June 1989, we are posting this image on social media today to indicate that the event was reported in the party media".
On its Weibo account @EUinChina, the EU Delegation posted the famous painting "The Scream" by Norwegian painter Munch with the caption, "We will not forget, we will never forget those who remember history". Both the British and the EU posts survived long on Weibo. The Dutch embassy on its Weibo account posted that on June 4 a Russian tank was destroyed during the 'Russo-Ukrainian War' on Leiden Square in Amsterdam.
The Swedish Embassy in China posted an article on 4 June describing the shooting of protesters by soldiers in Sweden in 1931. Although the content posted by the Dutch and Swedish Embassies was not directly related to June 4, the highly sensitive symbols of shooting and tanks posted on June 4 made netizens think.
The Internet users left comments on the Embassy's Weibo account, writing RIPs to express their condolences or pay their respects. Many of these comments were quickly deleted.
Since June, the 'bridge watchers' at several flyovers in Beijing were put back on duty. The Sithong Bridge, the beginning of 'White Paper' Revolution was given 'special attention' as searches for 'Sithong Bridge' on Baidu Map and Gaode Map, the commonly used navigation software in China, showed no results. The physical road signs on the bridge were removed.
The Chinese government also censored apps on the mobile phone. Several public security bureaus recently announced that suspected overseas telecoms net fraudsters have recently used "Telegram," "WhatsApp," Twitter, "Secret Chat Cat," "Bat" and "Mimita" to lure minors into committing telecoms network fraud.
"Teachers and parents need to check whether such software is installed in their children's mobile phones, and if so, "then your child may be assisting overseas fraudsters in committing crimes," the announcement said.
The police bulletin also added: "If you find that your child has installed it, pay great attention to it, inform them of the dangers, and take them to the nearest public security authorities to find out if they are engaged in crimes.