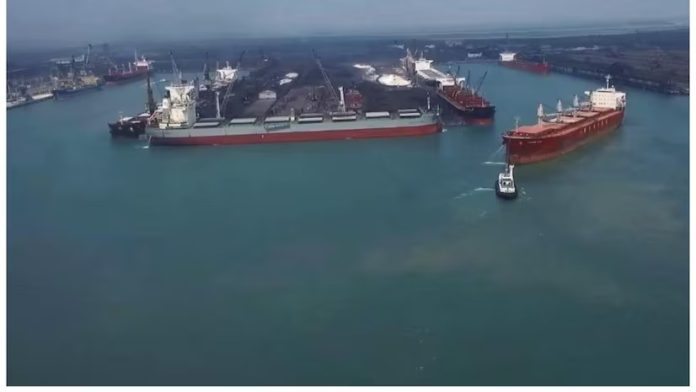 The US has expressed concern to Sri Lanka about the likely visit of a Chinese research ship next month that could also cause worries in India which in the past has raised security concerns over docking by China's spy vessels, according to a media report
US Under Secretary Victoria Nuland, who met Sri Lankan Foreign Minister Ali Sabry in New York on the sidelines of the UN General Assembly session, raised concerns about the upcoming visit of the Chinese research vessel 'SHI YAN 6′, Daily Mirror newspaper reported on Monday.
Minister Sabry briefed her that Sri Lanka, as a neutral country, had worked out the Standard Operating Procedure (SPO) to be followed by foreign ships and aircraft in carrying out any activity in Sri Lankan territory.
The minister reportedly told her that Sri Lanka had been even-handed in this approach for all the countries and could not exclude China from the process as a result. Earlier, President Ranil Wickremesinghe also said that the SPO had been worked out for foreign vessels.
The Chinese research vessel is expected in Sri Lanka in October to carry out research along with the National Aquatic Resources Research and Development Agency (NARA).
Described as a Research/Survey Vessel with a carrying capacity of 1115 DWT, the current draught is reported to be 5.3 metres in length overall 90.6 metres and width 17 metres.
Sri Lanka's Foreign Ministry last month said it is currently processing a request by China to allow its research ship to dock in the country.
The Chinese embassy here has made an application and the ministry is currently looking at it," Priyanga Wickramasingha, the foreign ministry spokesperson, had said. No dates have been fixed yet for the visit, she said.
China despatches its research/surveillance vessels to Sri Lanka on a regular basis. In August this year, the Chinese People's Liberation Army Navy warship HAI YANG 24 HAO arrived in the country on a two-day visit.
It was reported that the arrival of the 129-metre-long ship was delayed due to concerns raised by India.
In August last year, a similar visit by the Chinese ballistic missile and satellite tracking ship, Yuan Wang 5', which arrived in the southern Sri Lankan port of Hambantota elicited strong reactions from India.
There were apprehensions in New Delhi about the possibility of the vessel's tracking systems attempting to snoop on Indian defence installations while being on its way to the Sri Lankan port.
However, after a considerable delay, Sri Lanka allowed the ship to dock at the strategic southern port of Hambantota, being built by a Chinese company.
Cash-strapped Sri Lanka considers both India and China equally important partners in its task to restructure its external debt. China is one of the top lenders to Sri Lanka. Sri Lanka owes USD 7.1 billion to bilateral creditors, including USD 3 billion to China.
The island nation was hit by an unprecedented financial crisis in 2022, the worst since its independence from Britain in 1948, due to a severe paucity of foreign exchange reserves.