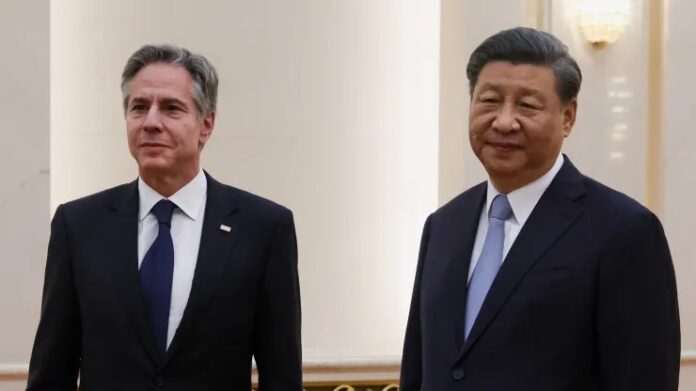 Generative artificial intelligence, the technology that viral chatbot ChatGPT is based on, could be the new battleground in the battle for tech supremacy between the U.S. and China, according to one analyst.
Despite the two nations seeking better relations after U.S. Secretary of State Antony Blinken met with Chinese President Xi Jinping this week, analysts said the tech tensions will continue.
Washington has sought to cut off China from key technology like semiconductors while China has looked to boost its self-sufficiency and wean itself off American technology, touting its domestic sectors.
"The status quo isn't likely to change much on any front — from sanctions to business pressure," Abishur Prakash, CEO of Toronto-based advisory firm, The Geopolitical Business, told CNBC via email.
AI, which is seen as a critical technology by both nations, will likely be dragged into the battle between the two sides.
AI in the 'crosshairs'
Former President Donald Trump began a trade war with China and technology was dragged in the middle Washington's tactics so far have relied on restricting China's access to technologies it deems critical such as semiconductors.
An escalation occurred last year when the U.S. introduced sweeping rules aimed at cutting China off from major tools and components to make advanced chips and choking the country off from critical semiconductors. The move was seen as potentially hobbling China's homegrown chip industry. U.S. has also got allies to align on tough export rules of tech to China.
Meanwhile, the U.S. has looked to boost its own domestic technology including semiconductors, with funding such as the $52 billion available via the Chips and Science Act.
Washington's attention is now likely to turn to generative AI.
"There will likely be more attempts coming from Washington to target the development in China of some types of applications, and generative AI could be in the crosshairs in the coming year," Paul Triolo, the technology policy lead at consulting firm Albright Stonebridge, told CNBC.
It comes "as the Biden administration determines which technologies could benefit both China's military modernization, and which could also boost Chinese companies' ability to make breakthroughs in generative AI," he added.
Generative AI relates to applications such as ChatGPT which are able to generate content when prompted by users.
How U.S. restrictions target A.I.
AI needs to be trained on huge amounts of data in order to work. Generative AI is based on so-called large language models, meaning it is trained on huge amount of language in order to be able to understand and respond to prompts from users.
The processing of this data requires a large amount of computing power that is powered by specific semiconductors, such as those sold by U.S. firm Nvidia, which is seen as the market leader in such chips.
Part of the U.S.'s current restrictions aim to cut China off from some of Nvidia's key chips, which in turn could hamper China's AI development.
Washington is also carrying out an outbound investment review, which would put rules in place for American investment into foreign companies.
"The upcoming outbound investment review executive order will include restrictions on U.S. investment in some AI-related technologies, and this will be a major indication of the direction of U.S. technology controls in the final two years of the Biden administration," Triolo said.
China's generative A.I. push
ChatGPT, developed by American firm OpenAI, has taken the world by storm and has sparked somewhat of an AI arms race between U.S. technology companies including Microsoft, which is an investor, and Alphabet.
Chinese technology giants have taken note.
Over the past few months, Chinese technology giants from Baidu to Alibaba have announced plans and launched trials for their own ChatGPT rivals.
China sees AI development as a strategic priority. Chinese regulators have brought in regulations around certain aspects of AI development, so the technology adheres to Beijing's strict internet rules, but the government is still keen to boost the domestic industry.
Even as the U.S. looks to restrict China's access to key AI chips, Alibaba and Baidu have been designing their own semiconductors. While there hasn't been any impact on these chips from U.S. sanctions so far, it is an area that the government and tech firms will be watching closely.
Blinken-Xi meeting unlikely to change much
Beijing has accused the U.S. of violating international trade rules through its sanctions and said curbs on China's chip industry amount to "bullying."
Washington maintains its moves are in the interest of national security and are targeting specific sensitive technologies.
China hasn't retaliated much. However, last month Chinese regulators barred operators of "critical information infrastructure" from buying chips from U.S. firm Micron, claiming the company's products failed its network security review.
Technology wasn't spoken about in public too much when Blinken recently met with China's Xi, but the two sides no doubt discussed it.
Triolo told that the U.S. likely raised issues about the treatment of Micron while China would have brought up the export controls.
"Beijing views that package [export controls], and the U.S. CHIPS and Science Act, as a one-two punch designed to decouple China's semiconductor industry from the global semiconductor ecosystem," Triolo said.
However, the two sides are in somewhat of a stalemate.
Blinken spoke about areas of co-operation between the U.S. and China such as the climate crisis and the economy. But advanced technology is one area the two nations remain in competition.
"But, at the same time, as I said, it's not in our interest to provide technology to China that could be used against us," Blinken said on Monday.
"What China wants, the U.S. isn't going to give, like opening up the chip ecosystem to Beijing or not scrutinizing Chinese investment in U.S. technology," Prakash said. "The U.S.-China battle for technology supremacy is about to enter its primetime."
Unlike the previous flashpoints, like over 5G or TikTok, when both sides still believed differences could be patched over, now such ideas are politically dead. The chasm between the U.S. and China has expanded so much — and neither superpower wants to bridge the differences."