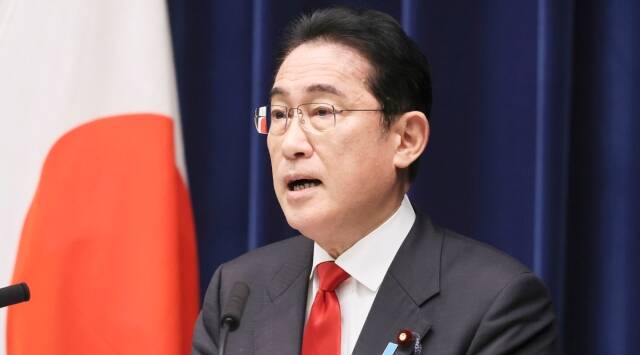 Japanese Prime Minister Fumio Kishida traveled Tuesday to Kyiv to meet with Ukrainian President Volodymyr Zelenskyy in a show of support that came as Russian President Vladimir Putin hosted Chinese leader Xi Jinping.
Japan's Foreign Ministry said that during his visit, Kishida will "show respect to the courage and patience of the Ukrainian people who are standing up to defend their homeland under President Zelenskyy's leadership, and show solidarity and unwavering support for Ukraine as head of Japan and chairman of G-7."
The ministry statement also said Kishida would express Japan's rejection of "Russia's one-sided change to the status quo by invasion and force."
Kishida is the latest world leader to make the trip to wartime Ukraine since Russia launched its full-scale invasion in February 2022.
US military aid
U.S. Secretary of State Antony Blinken announced Monday the United States is providing $350 million in equipment and ammunition in its latest aid package for Ukraine, as European Union foreign and defense ministers finalized a plan to supply Ukraine with ammunition while replenishing their own ammunition stocks.
Three military officials told VOA the package includes more surface-to-surface rockets to use in Ukraine's High Mobility Artillery Rocket System (HIMARS), more 155-millimeter ammunition for Howitzers and additional 25-millimeter rounds.
Long-range rockets for HIMARS are not included in this package, according to officials.
Blinken said the package also includes more ammunition for Bradley Infantry Fighting Vehicles, HARM missiles, anti-tank weapons and riverine boats.
"Russia alone could end its war today. Until Russia does, we will stand united with Ukraine for as long as it takes," Blinken said.
A military official told VOA the U.S. ammunition package was being made in tandem with the efforts that EU partners were making to address Ukraine's need for more ammunition on the battlefield as it fights the full-scale Russian invasion that began more than a year ago.
The EU's $2 billion plan includes sending Ukraine 1 million 155-millimeter artillery shells within 12 months.
After EU foreign and defense ministers endorsed the plan during a meeting in Brussels Monday, EU foreign policy chief Josep Borrell called the agreement a "historic decision."
"We are taking a key step towards delivering on our promises to provide Ukraine with more artillery ammunition," he said on Twitter.
The EU plan also calls for fast-tracking new orders of ammunition for Ukraine and encourages countries to work together on purchases through the European Defense Agency or in groups of at least three nations.
Ukrainian Foreign Minister Dmytro Kuleba cheered the EU move in a tweet, calling it a "game-changing decision."
"Exactly what is needed: urgent delivery + sustainable joint procurement," he wrote.