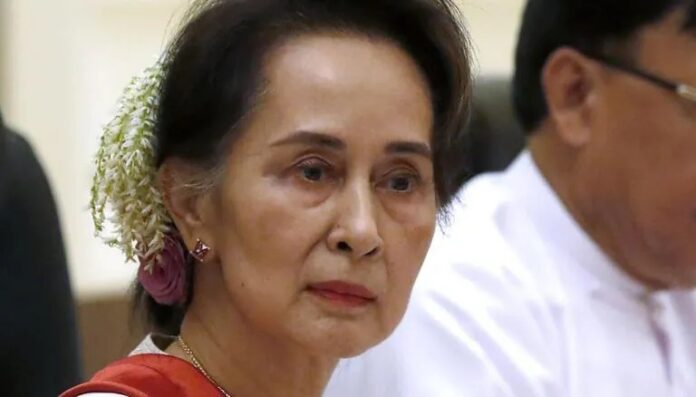 Ousted State Counsellor and the civilian leader of Myanmar Aung San Suu Kyi was unexpectedly moved from prison on Monday sparking speculations. According to the Dutch news outlet — Nederlandse Omroep Stichting (NOS), a senior government official from her party told local reporters that the politician was taken to an apartment. The move came just days after reports emerged that the country's draconian military junta was planning to transfer the ousted human rights activist to home confinement.
A source close to the prison department told Burmese news outlet DVB that the prominent political figure might be granted Amnesty by August 1 during a ceremony to mark the "consecration of new Buddha statue". As per the news outlet, Suu Kyi has reportedly met with Burma's lower house speaker Ti Khun Myat and is likely to meet Deng Xijuan, China's special envoy for Asian Affairs, who is currently visiting the country. The prominent politician was arrested in February 2021, immediately after the military junta threw her out of power. The 78-year-old leader was sentenced to 33 years in prison and since then she was kept in solitary confinement.
Junta loosening her grip due to mounting pressure
Ever since the military coup, Myanmar has been isolated from the entire world with draconian laws in place.  Since the coup, the junta has been under tremendous pressure from around the world. Hence, some consider this move as an outcome of that pressure.  "The junta has been under tremendous pressure since the 2021 coup and has had many failures, so they brought out Suu Kyi to find a way out of this situation," a source from the National Unity Government told DVB. In an effort to loosen the grip, the draconian regime allowed Thailand's Foreign Minister Don Pramudwinai to visit Suu Kyi in prison, making him the first foreign visitor to be granted access to her since she was detained.
Following the meeting, Don told the local reporters that Suu Kyi was in good health as he conveyed Thailand's willingness to engage in talks with the Junta to resolve the crisis situation. The country's military confirmed the meeting and stated that it lasted for an hour and a half. However, the military did not share any further details on the meeting since it was a one-on-one between the ousted leader and the Thai diplomat.