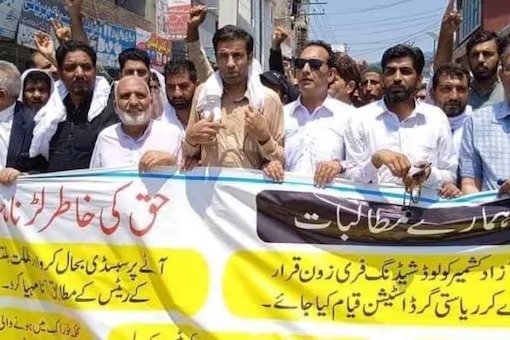 Political repression is on the rise in PoJK with the 76th anniversary of the creation of Pakistan, which is being observed on August 14. Several political activists were arrested in Muzaffarabad, the capital city of PoJK, on August 11 for sharing "anti-Pakistan" posts on social media. They were beaten up at the local police station and forced to condemn their actions and repost "pro-Pakistan" statements on social media.
The government in PoJK has ordered that the Pakistani flag should be hoisted at all government buildings and salami (salutation) offered on August 14. This is in stark contradiction to the United Nation resolutions that recognise PoJK as a disputed territory.
The fact is that PoJK is the only Indian territory, which has been occupied by Pakistan since October 1947 when its army invaded Jammu and Kashmir. Pakistan's repression and atrocities have increased since the abrogation of Article 370 on August 5, 2019.
The fast-paced development and return of peace in the new union territory of Jammu and Kashmir has brought Pakistan's oppressive role into question, and youth in PoJK want the country's army to quit the region. Hence, they have issued a call for August 14 to be observed as a 'black day'. The Baloch people have also declared August 14 as a 'black day'.
The Pakistani army occupied the independent state of Balochistan on March 28, 1947, and, ever since, the Baloch population have raised arms against Pakistan on at least five occasions. Not a day passes by when Baloch rebels of different formations do not attack security personnel using guerrilla warfare tactics.
Contrary to August 14 being observed as a 'black day', in the Indian territory of Jammu and Kashmir, August 15 is being observed as a 'great day', and rightly so. The day marks when India won freedom from the colonial rule of the British empire. It was the culmination of 200 years of anti-colonial struggle from the 1775 Battle of Plassey to the Revolt of 1857 to the naval rebellion of Sholapur in 1946. All the above struggles against colonial rule led to the birth of the Indian National Congress (1885), the Ghadar party (1913), Communist Party of India (1925), Nationalist Rashtriya Swayamsevak Sangh popularly known as the RSS (1925), and many more political as well as social campaign groups that fought or advocated for the liberation of Hindustan.
What makes August 15 a 'great day' is the fact that, on this very day, a new nation was born that came to be known as the largest democracy in the world. It was a day when more than 500 princely states of British India joined hands to give birth to a new Republic of India.
India was partitioned by the British on August 14, culminating in the deaths of more than a million people of all faiths and displacement of no less than 10 million people. It is known as the worst communal-based migration in the history of mankind. August 14 can never be celebrated as a 'great day'. It was, and remains to this day, a day marked with communal hate and bloodshed.
The two-nation theory of Muhammad Ali Jinnah continues, to this day, to poison the minds of millions in the Indian subcontinent, especially in the PoJK. A nation state born on August 14 called Pakistan has Islam as its state religion and has become a terrorist training camp at an industrial scale.
Pakistan has provided a safe haven to terrorists like Osama bin Laden, Hafiz Saeed, Salahuddin among others. A nation state born on August 15 called India has produced a secular Constitution, where all citizens are equal before the law of the land.
Pakistan has a history of persecuting religious minorities. India, on the other hand, has a tradition of honouring its religious and ethnic minorities. A Muslim by the name of APJ Abdul Kalam became the president of India and, today, Droupadi Murmu, a member of a tribal community, is president.
Pakistan has a corrupt military and civil bureaucracy that have drained their country leading it to the brink of default. India has become the fifth largest economy of the world, surpassing the UK that colonised her. Pakistan has nothing to feel gratified about, whereas India has every reason to be proud and hold her head high.
Pakistan has plundered the natural resources of PoJK while India has enriched the union territory of Jammu and Kashmir. PoJK only has 2G, while J&K has 5G. The sewerage in Muzaffarabad has collapsed, while Srinagar has become a smart city. Pakistan has established launch pads to infiltrate India and cause harm. India has held G20 to uplift J&K.
At a time when Indian citizens are celebrating their newfound prosperity, the residents of PoJK are protesting out on the streets against non-payment of pensions, wheat shortages, load shedding and worsening living conditions. For the youth of PoJK, therefore, August 14 is truly a 'black day' and August 15 is, beyond a doubt, a 'great day'. Happy 76th Indian Independence Day!