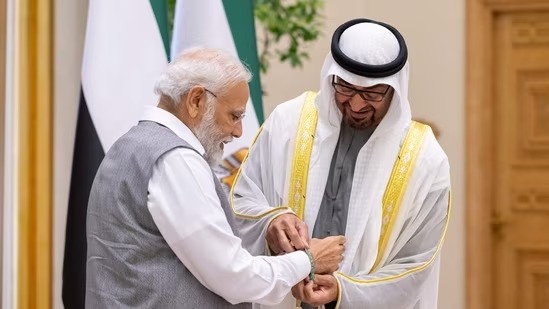 Away from media glare on this three day visit to France and Abu Dhabi, the Modi government signed its first long term LNG contracts with French TOTAL in Paris and with UAE's ADNOC in Abu Dhabi for 0.8 million metric tons and 1.2 MMT respectively as part of its energy diversification process.
Prior to this, India's only long term contract was with Qatar of 11.18 MMT of LNG, which amounts to USD 12 billion annually. India imports around USD 30 billion worth crude oil from Saudi Arabia every year.
While all credit of Rupee-Dirham currency settlement goes to RBI Governor Shaktrikanta Das for doing all the heavy lifting on the Indian side before signing the MoU with Central Bank of UAE, the credit on the UAE side goes to Sheikh Mohammed bin Zayed as it is a global signal on the strength of Indian economy and Indian currency. It is due to the close relations between PM Modi and President MBZ that all USD 85 billion worth of bilateral trade including USD 36 billion in oil and gas will be done in local currency with US dollar now out of the picture. The test of this latest initiative will be in the coming days when oil transactions are done through the local currency settlement route.
The signing of the MoU on bilateral cooperation on interlinking of payments and messaging systems (like RTGS and IMPS) between RBI and Central Bank of UAE will also integrate the Unified Payments Interface of India and the Instant Payments Platform (IPP) of the UAE and facilitate interlinking card switches of two countries—Rupay switch and UAESWITCH—to facilitate card transactions directly without relying on any other third country network.
The LCS system between India and UAE will cause ripples in the entire Middle-East and in the Indian sub-continent as other important countries would also like to do the same. While Nepal and Bhutan are linked with Indian currency, the LCS could be a game-changer in trade with Bangladesh under Sheikh Hasina regime. The LCS is not only about financial transactions but linking of businessmen and women through domestic currency by cutting out the tedious dollar and petro-dollar route.