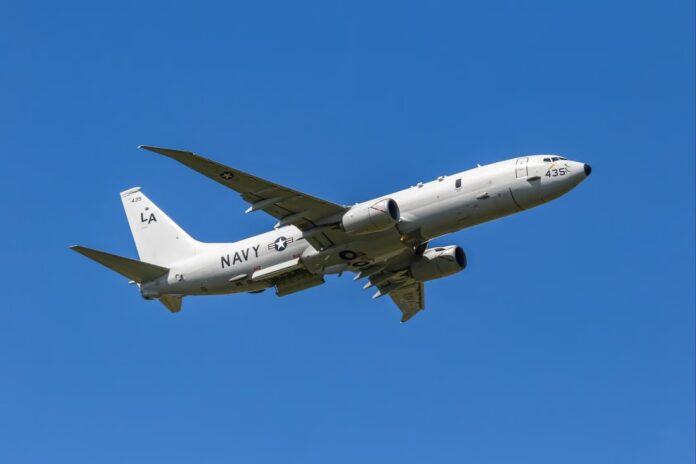 China promptly issued a protest on Monday after a US Navy P-8A Poseidon reconnaissance plane flew through the Taiwan Strait in what the Seventh Fleet said was a show of the US "commitment to a free and open Indo-Pacific".
Beijing said the US action "deliberately interrupted and undermined peace and stability in the Taiwan Strait" and it firmly opposed the operation.
The US Seventh Fleet said it considered the Taiwan Strait an international waterway, and that operations like Monday's transit would continue.
"The United States will continue to fly, sail, and operate anywhere international law allows including within the Taiwan Strait," it said, adding that the plane was operating in "international airspace".
"By operating within the Taiwan Strait in accordance with international law, the United States upholds the navigational rights and freedoms of all nations."
According to a statement issued by the People's Liberation Army's (PLA) Eastern Theatre Command, which oversees areas that include the Taiwan Strait, Chinese fighter jets were scrambled to "follow, monitor and guard against" the US aircraft's operation and "had everything under control".
"The Eastern Theatre Command forces are always on high alert at all times to resolutely defend national sovereignty and territorial integrity," command spokesman Colonel Shi Yi was quoted as saying.
Taiwan's Ministry of Defence said the aircraft flew south along the sensitive waterway, adding "everything was normal".
US Navy ships, as well as vessels belonging to its allies, regularly transit through the 180km-wide (112-mile) channel between the Chinese mainland and Taiwan. The last such operation was conducted by the Arleigh Burke-class destroyer USS Chung-Hoon in January.
However, warplane flyovers in the Taiwan Strait are less frequent. Monday's transit was the second time in eight months for such a flight. Last June, a P-8A took part in a similar mission two weeks after Chinese defence chief Wei Fenghe said the Taiwan Strait was "not international waters".
Monday's event came as US President Joe Biden doubled down on Washington's commitment to support Kyiv to defeat Russia in the Ukraine war, raising questions about the country's ability to defend its interests in the Indo-Pacific at the same time.
The Taiwan issue has become a flashpoint in increasingly-troubled China-US relations.
Beijing regards Taiwan as a breakaway province to be reunified – by force if necessary. As relations between the two sides have deteriorated, the PLA has regularly sent warplanes across the strait and into the island's self-declared air defence identification zone.
Washington does not recognise Taiwan as an independent country, but is committed to supporting the island's self-defences and has strengthened its ties with Taipei through an Indo-Pacific strategy to counter Beijing. The measures include increased arms sales, closer military cooperation and a greater military presence in the region.