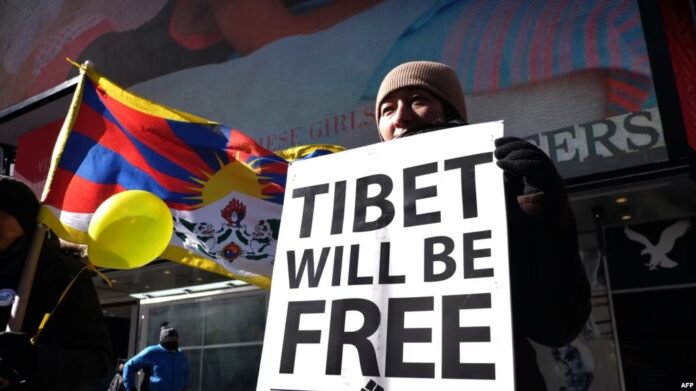 TAIPEI, TAIWAN — New research measuring nighttime lighting data from detention facilities in Tibet has renewed global discussion about China's decadeslong persecution of Tibetans in the autonomous region.
While the report's findings offer limited insights into the current state of detention across the region, analysts say some evidence shows a fundamental shift in policing.
The study released by the nonprofit RAND Europe research institute shows increased activities at high-security detention facilities in recent years, suggesting a possible shift from low-level detention to longer-term imprisonment and detention in the autonomous region.
Using satellite-based sensors to measure nighttime lighting consumption at detention facilities, RAND Europe said the findings may help improve the outside world's understanding of China's "stability maintenance" efforts in Tibet, which the researchers characterize as an "information black hole" to the international community.
"State actors, human rights organizations, academics, and the Uyghur diaspora have all worked to increase our understanding of the situation in Xinjiang in recent years, but we have not had a similar focus on Tibet," Ruth Harris, director of defense and security at RAND Europe and one of the report's authors, told VOA.
She hopes the report can "shed light on security and detention facilities" in the Tibet Autonomous Region.
By examining 79 detention facilities throughout TAR, the report found growth in nighttime lighting usage at 14 higher-security facilities since 2019. A closer look showed increases at high-security prisons in 2019 and 2020, while high-security detention centers saw an increase between 2021 and 2022.
Despite similar levels of security, high-security prisons in TAR tend to have recreation facilities, while detention centers look more like cellblocks.
While nighttime lighting data between 2014 and 2022 suggests no major changes to TAR's detention system, Harris thinks the concentration of nighttime lighting growth in higher-security facilities since 2019 suggests "a possible shift toward longer-term imprisonment and detention of Tibetan dissidents."
That would be similar to the trend in Xinjiang, where more than 1 million Uyghurs and other ethnic minorities have been sent to re-education camps, detention centers or prisons in recent years.
Preventive policing
While RAND Europe's findings suggest a transition to longer-term detention in Tibet, some experts argue there has been no evidence to support this conclusion.
"We do know cases of very long detention, but there is no evidence suggesting an increase in those kind of detentions," Robert Barnett, an expert on Tibet at King's College London, told VOA. He added that evidence suggests an increase in preventative policing and grassroots surveillance.
According to Barnett, the principle of China's policing in Tibet over the past 15 to 20 years has been preventive policing, which focuses on identifying individuals who may be risky and using a range of methods to manage them before they do anything China deems unacceptable.
"In Tibet, we are seeing extraordinary growth in grassroots-level control systems, including party organizations in villages and other forms of close monitoring of individuals," Barnett explained. "The authorities identify the kinds of people who are likely to be a political problem and track them through technology or local officials and neighborhood committees."
Despite a shift in Beijing's style of exerting control over Tibet, Barnett and other analysts emphasized that political detention is still taking place across TAR. Instead of locking people up in detention centers or prisons, some Tibetans are under de facto house arrest called residential surveillance at a designated location (RSDL), a method that Chinese authorities have been using against dissidents in China.
"Some Tibetans are in residential surveillance and others are subject to pre-trial detention at unknown locations," Ngawang Lungtok, a researcher at the Tibetan Centre for Human Rights and Democracy, told VOA.
He added that Tibetans under RSDL may be subject to torture or threats that could lead to self-censorship.
Human rights violations
Tibet has been under China's rule since 1951, after the People's Liberation Army moved in and took control of the region. Beijing characterizes the event as a "peaceful liberation," while Tibetans call it an "invasion."
Since then, rights groups say China has launched a decadeslong campaign to crack down on Tibetans' efforts to highlight its separate religious and cultural identities. After mass protests broke out in 2008, Beijing further tightened control over the region, launching large-scale surveillance programs, targeting groups and individuals advocating for Tibet's autonomy, enrolling Tibetans in mandatory reeducation and forced labor transfer, and arresting large numbers of intellectuals, activists and religious figures.
In April, a group of independent experts within the United Nations human rights system "expressed concern" over China's alleged practice of having Tibetans 'transferred' from their traditional rural lives to low-skilled and low-paid employment since 2015 through a program described as voluntary. But in practice, their participation has reportedly been coerced, the experts said.
The U.N. experts also mentioned allegations of the government discouraging Tibetans from speaking their language and practicing their religion, and said "vocational training" in Tibet puts cultural identities at risk.
Analysts said these examples of human rights violations in Tibet show that China has designed a large-scale mechanism to remove the rights of an ethnic group.
"Many Tibetans abroad are concerned about the loss of their culture and language, and it's a change to the system that can have a worrying effect," Barnett told VOA.
Despite international criticism of its treatment of Tibetans, China has repeatedly said it has made "progress" in the human rights causes in Tibet.
"China's Tibet Autonomous Region enjoys social stability, economic development, ethnic solidarity and religious harmony," Chinese Foreign Ministry spokesperson Mao Ning said during a daily press briefing on April 28. "The so-called 'concerns' of the relevant special procedures' experts are completely unfounded."
Low flow of information
Outsiders have found it difficult to get information from within Tibet in part because Tibetans have had a tough time leaving the region.
"In early 2008, China increased patrols along the border with Nepal, and they [were able to largely] prevent Tibetans from joining exiles in India through Nepal," Barnett said.
He added that Chinese authorities altered the administrative requirements for Tibetans to get passports in 2012, which contributed to the sharp decline in the number of people leaving TAR.
In addition to efforts that limit Tibetans' abilities to leave the region, experts told VOA that local authorities have taken down online sources of information and criminalized information sharing with people outside China, which discourages posting certain information on social media platforms.
"Essentially, no one is coming through the border, and platforms like WeChat are heavily surveilled that authorities can prosecute people for sharing information on those platforms," Sophie Richardson, the China director at Human Rights Watch, told VOA. "This explains why it's become so much more difficult for information to come out of Tibet."
Barnett of King's College said even though information outflow has been severely affected, some Tibetans are still taking risks and providing "anecdotal fragments" through social media.
The primary challenge is the inability of the outside world to follow up and independently verify the information, he said.