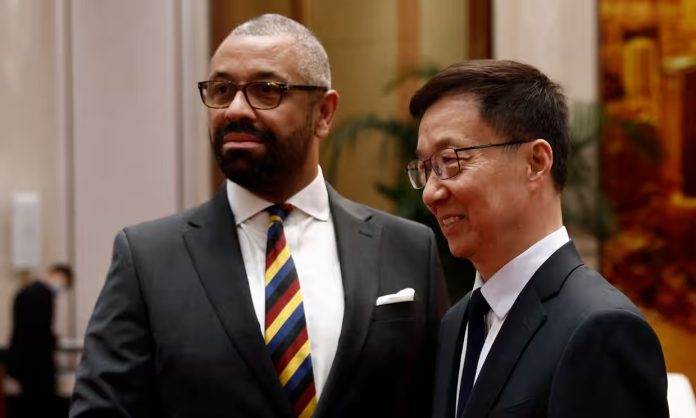 James Cleverly has defended his meetings with senior Chinese government members, saying it would be a mistake to try to isolate China, during the first visit to Beijing in five years by a UK foreign secretary.
Cleverly said he believed China genuinely cared about UK views on human rights, following his meetings on Wednesday with China's vice-president, Han Zheng, and foreign minister, Wang Yi. However, there was no indication of a change in Chinese policy such as the lifting of its sanctions on British parliamentarians, the test for the trip set by the shadow foreign secretary, David Lammy.
Cleverly's visit coincided with a significant report from the British foreign affairs select committee calling for the government to take a zero-tolerance stance against Beijing's "transnational repression".
The foreign secretary told media the UK was "clear-eyed" about its disagreements with Beijing but it wanted to have a pragmatic relationship, and it would be a mistake to try to isolate the world's second-largest economy.
"It is an important country, it's a large country, an influential country and a complicated country, and therefore our relationship with China will necessarily be just as complicated and sophisticated," he said.
"We are clear-eyed about the areas where we have fundamental disagreements with China and we raise those issues when we meet … But I think it's important to also recognise that we have to have a pragmatic, sensible working relationship with China because of the issues that affect us all around the globe."
At the meeting with Han, Cleverly said it was important the two governments continued with regular face to face meetings to avoid misunderstandings. He also said it was important to address the challenges and differences of opinion that all countries have in bilateral relations, according to sorces.
Han said he hoped the bilateral relationship would make new advances through mutual respect and practical cooperation.
The Foreign Office said in a statement: "The foreign secretary was clear about the UK's position on China's malign cyber-activity. In detailed discussions on Hong Kong, he stressed the damage caused by the Beijing-imposed national security law to rights and freedoms and consequently to China's international reputation, and raised the case of Jimmy Lai.
"He also emphasised the importance to the international community of peace and stability in the Taiwan Strait. And he called for the immediate lifting of sanctions against parliamentary colleagues. The foreign secretary made clear the UK's strength of feeling about the mass incarceration of the Uyghur people in Xinjiang."
Luke de Pulford, executive director of the inter-parliamentary alliance on China, accused Cleverly of making what he called vacuous remarks designed to legitimise engagement. "The issue is that what lurks underneath this apology for a policy is a desire to placate the 'antis' just enough to continue with the preferred diplomatic path – which is 'stable relations'.
Chinese state media reported on Wednesday that the UK was to follow Cleverly's visit with the largest business delegation in four years. About 60 British companies and organisations are to attend next month's China international fair for trade in services, the Global Times said, where the UK will be the guest country of honour.
Earlier, in a statement to X, formerly known as Twitter, which is banned in China, Cleverly said: "Engaging with China doesn't mean that we shy away from the tough conversations. It's about voicing our concerns directly – face to face. That's why I'm here."
Cleverly had been scheduled to visit in July but the trip was postponed amid the mysterious disappearance and subsequent sacking of China's former foreign minister, Qin Gang.
China's foreign ministry spokesperson, Wang Wenbin, on Wednesday said the growth of bilateral relations between the two countries served their common interests. "We hope the UK will work with China to deepen exchanges and enhance understanding in the spirit of mutual respect, so as to promote the steady development of China-UK relations," he said.
Lord O'Neill, the former UK trade minister, said it was possible to have the right relationship with China on trade but "make sure that we have the right security in place to stop unwanted things happening from that relationship". He blamed enormous pressure from Washington for forcing the UK to remove Huawei from Britain's 5G networks. "Due to the influence of the US, the UK had made a song and dance in terms of stopping us doing almost anything with China," he said.
He said the UK would not have adopted its recent more "balanced" policy to China after a period of hostility unless it had the agreement of Washington, and followed a pre-existing trend inside the EU.
The UK foreign affairs select committee report, which its authors said was coincidentally published as Cleverly was in Bejing, criticised the government for a lack of "coherence" in its approach to China. Alicia Kearns, the chair of the committee, on Wednesday said she backed Cleverly's visit and called on the prime minister, Rishi Sunak, to meet the Chinese leader Xi Jinping when the next opportunity arose.
"We need to have leader-to-leader discussions because that is where you can stand resolute, and prevent or deconflict issues," she said. "The choice is not between absolutely no contact and naively trusting China, but it's about stating our position in the room."
In what has been reported as a first for the British parliament, the committee's report also referred to Taiwan as an independent country. Beijing considers Taiwan to be a province of China that it intends to "reunify" with the mainland, by force if necessary. It strongly objects to any act that appears to legitimise Taiwan's sovereignty, and does not allow its diplomatic allies to have formal ties with Taiwan.
Prof Steve Tsang, the director of the Soas China Institute, said it was not clear how much Cleverly would be able to achieve.
"It looks like that Cleverly will want to focus on the positives, such as areas for cooperation, be it in economic or trade matters or in climate change," said Tsang.
"But the reality is that China will only go as far as Xi wants it to go, and no more. Nothing Cleverly can do to change that. Xi wants Putin to stay in power and stay strong, and this will not change whatever Cleverly may have to say. If Cleverly does not know that he does not understand the first thing about Xi's policies."