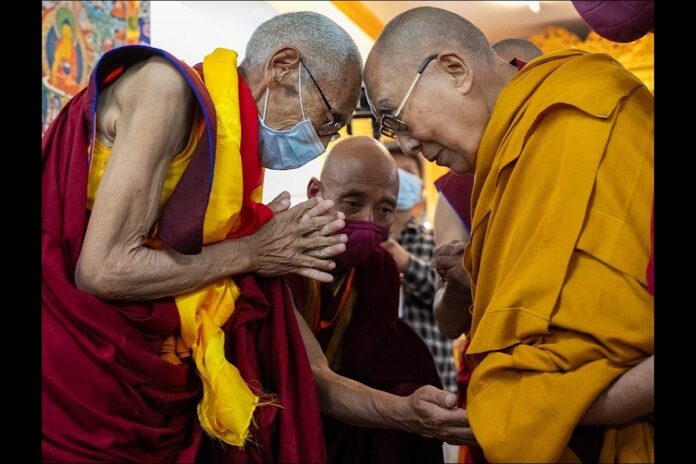 Tibetan spiritual leader Dalai Lama on Monday said that the Buddhists in the Chinese occupied Tibet are living through difficult times but they have a strong spirit of resilience.
The Dalai Lama was addressing the 16th Annual Working Committee Meeting of U-Tsang Cholkha Association at his Leh residence Shewatsel.
Dalai Lama said that the Tibetans have worked hard to keep our language and culture alive. What's more, there are today increasing numbers of Chinese taking interest in Buddhism and Tibetan Buddhism in particular.
"Tibetan Buddhism is compatible with science because it is based on logic and reason, as well as the process of study, reflection and meditation," he said.
He noted that growing numbers of people in China and the West are paying attention to this tradition without necessarily making a religious commitment.
He noted that in the past Tibetan Buddhism was only known by name, but now people at large have a much broader understanding of it as educated people and scientists take interest in it.
"Tibetan Buddhism derives from the Nalanda Tradition and the writings of Nagarjuna, Chandrakirti, Dharmakirti and Dignaga. We have evolved a culture that has a beneficial contribution to the world. For reasons like this we can be proud to be Tibetan," he said.
The Dalai Lama also drove to Stok village, 15 kms South of Leh, where he offered prayers before the 71 ft high seated golden Gautama Buddha statue.
He also addressed a large number of people who had gathered to greet him. The statue was consecrated by the Dalai Lama on 8 August 2016.
The Dalai Lama drove down to the residence of Stok Gyalmo, the erstwhile Queen of Ladakh, where she and her grandson had invited him to tea.