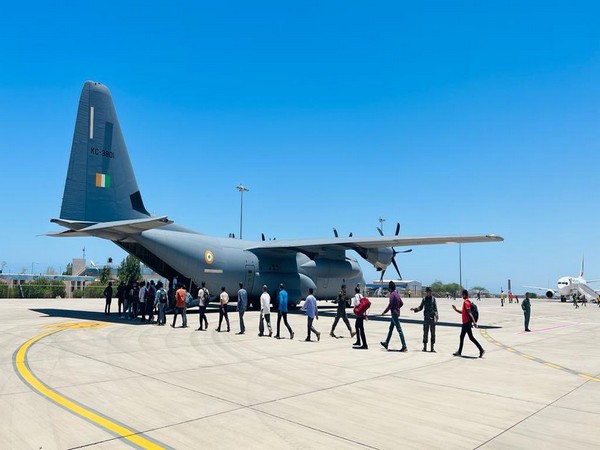 Port Sudan [Sudan], May 2: An Indian Air Force (IAF) C-130J aircraft on Tuesday departed from Port Sudancarrying 135 Indians to Jeddah, marking the 18th batch of evacuees from the conflict-torn African country to the Saudi Arabian city, the Ministry of External Affairs said.
Arindam Bagchi, Official Spokesperson, Ministry of External Affairs, India, tweeted, "IAF C-130J aircraft carrying 18th batch of Indian evacuees departs from Port Sudan. !35 passengers are on their way to Jeddah. #OperationKaveri."
The 18th batch of Indian evacuees was carried from Port Sudan to Jeddah, where they will be brought to India under Operation Kaveri. Sudan is currently reeling under the conflict of rival factions of military and para-military forces.
Earlier, on Monday, an Indian Air Force C-130 J aircraft evacuated the 17th batch of 122 Indians from Port Sudan to Jeddah.
"#OperationKaveri IAF C-130 J flight brings 17th batch of evacuees from Port Sudan to Jeddah. 122 Indians evacuated by this flight," tweeted Indian Embassy in Saudi Arabia.
Fighting is underway in Khartoum as the UN warns that Sudan is at a humanitarian "breaking point".
Rival military forces accuse each other of new violations of a ceasefire that they had just agreed to extend as their devastating conflict enters a third week.
Soldiers loyal to Sudanese army leader Abdel Fattah al-Burhan and his deputy, paramilitary Rapid Support Soldiers (RSF) commander Mohamed Hamdan Daglo have been engaged in the fighting.
The United Nations humanitarian coordinator in Sudan has warned that the humanitarian crisis in the country is turning into a "full flown catastrophe" and that the risk of spillover into neighbouring countries was worrisome."
"It has been more than two weeks of devastating fighting in Sudan, a conflict that is turning Sudan's humanitarian crisis into a full-blown catastrophe," Abdou Dieng, Resident and Humanitarian Coordinator in the country told a briefing of member stated via video link.
The UN assistant high commissioner for Refugees has said that more than 800,000 people may flee Sudan.
The commissioner said the UN has temporarily paused operations in some parts of Sudan, including Khartoum.
The Indian Air Force (IAF) on Monday tweeted: "With almost 1400 Indians evacuated in IAF aircraft over the past few days, two C-130 J aircraft have evacuated 260 personnel including elders who were above 90 years of age & one above 102 years of age."
The Indian government under Operation Kaveri, is set to evacuate about 3,000 Indian-origin passengers from Sudan.
India has deployed its military planes and warships in the war-torn country to bring its citizens safely under Operation Kaveri.