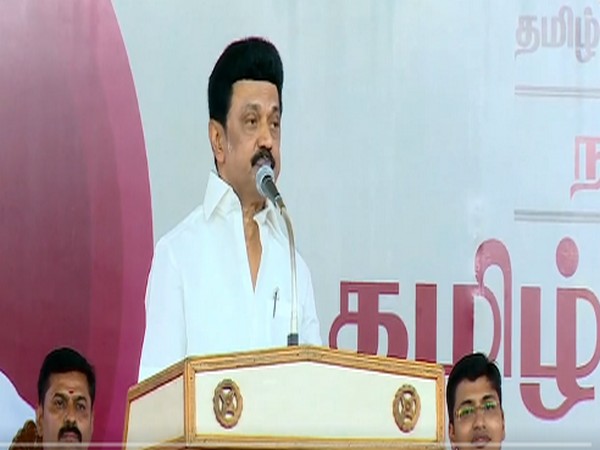 Chennai (Tamil Nadu) [India], April 17: Tamil Nadu Chief Minister MK Stalin on Monday announced a compensation of Rs 10 lakhs each to the kin of two persons from the state who were killed in a fire incident in Dubai.
The incident was reported on Saturday.
According to a statement released by Tamil Nadu government, the deceased were identified as Imam Kasim (43), and S Mohammed Rafiq (49) – both residents of Kallakurichi.
"I am deeply saddened to hear the sad news that both of them died in a fire in their residential area on Saturday," CM Stalin said in the statement.
He also stated that the Indian Embassy is taking the action to bring the bodies to Tamil Nadu.
At least 16 people, including 4 Indians were killed in a tragic fire which broke out in a residential building in Dubai on Saturday, Gulf News reported adding that the Indian consulate identified all four people.
Among other Indians, a couple from Kerala's Malappuram district was identified. They have been identified as Kalangadan Rijesh (38) and Kandamangalat Jishi (32), both hailing from Vengara in Malappuram.
Rijesh worked as a travel employee, while Jishi was a teacher at Khizais Crescent School.
According to the police, the couple died of suffocation. The security guard who took part in the rescue operation also got killed, informed the police.
The police suspect that the cause of the fire was an electrical short-circuit.
"We have received their passport copies through social worker Naseer Vatanappally. We want to express our heartfelt condolences to the families and thank the social workers and others who have reached out with support. We are coordinating with the local authorities for the repatriation procedures," said Bijender Singh, consul, Consular and Labour, at the consulate, Gulf News reported.
Rafiq's older brother Saliga Sahib Gudu Basha told Gulf News he was outside the building when his brother was inside, insisting on helping out with the rescue of others when he died. He claimed it was the same case with Abdul Khader who also hailed from his hometown, Gulf News reported.
Rafiq and Kasim worked as watchman-cum-cleaner and painter-cum-carpenter respectively. "I was helpless…I could only watch from outside," Basha said.
Basha works as a security guard in a nearby building. On hearing about the blaze, he said that he rushed to the site around 12.30 pm.