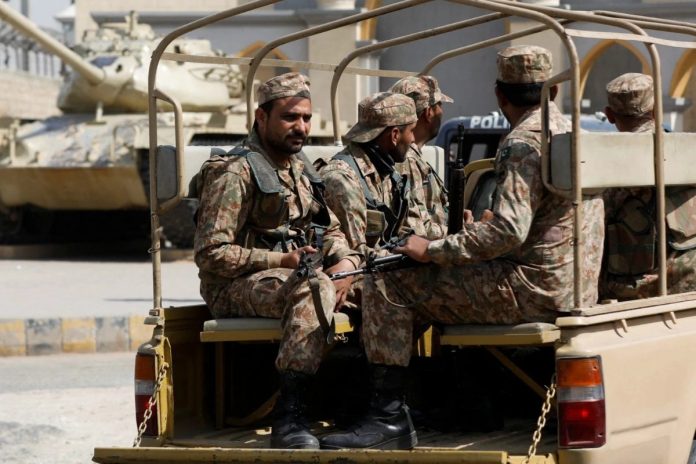 Pakistan is struggling for survival with its economy in shambles and the country is now totally dependent on external assistance and loans.
If this vital support were to falter, or if external donors and lenders chose to withdraw, the country's economy would plummet into a monumental default. In September 2023, its inflation surged to 31.4 per cent from 27.4 per cent in the preceding August month recorded on a year-on-year level. Pakistan owes nearly $123.574 billion to its external creditors, with nearly exhausted foreign exchange reserves of around $13 billion. As of 2023, the World Bank has reported that approximately 37.8 per cent of Pakistanis are living below the poverty line, even as the country, as per the United Nations, slipped to 161st position out of 190 countries in terms of the Human Development Index. Notably, this places Pakistan well below Bangladesh, the country born out of it in 1971, which maintains its position at 129th in the same ranking.
In this economic precipice, almost every sector of Pakistan's economy has entered a stagnant phase, if not an outright recession. Its industrial production fell 1.8 per cent YoY in July 2023, following a drop of 15 per cent YoY in the previous month, as revealed by CEIC data. Yet, surprisingly or not, one sector continues to thrive – the enterprises operated by the nation's influential military establishment, which retains phenomenal financial control over the country. It seems that the broader economic downturn affecting Pakistan has little or no impact on the military's commercial ventures, maintaining their extraordinary financial control over the country.
Pakistan forces have over the years established a wide network of business ventures which have made foray into every segment of manufacturing and service sectors of the country's economy. Led by the Army's Fauji Foundation (FF), Navy's Bahria Foundation (BF) and Air Force's Shaheen Foundation (SF), the armed forces have increased their hold on economic sectors of the country, effectively turning the Army generals and their colleagues in other services as landlords, real-estate tycoons and business moguls. Multiple reports have alleged that Pakistani Army officers use these ventures as a front for corruption, capitalising on their autonomy and lack of institutional accountability.
Furthermore, the Pakistan Army exercises control over the Defence Housing Authority (DHA), which has evolved into its real estate arm, along with the Army Welfare Trust (AWT). The political economy of these ventures has characterised and driven the military establishment's stronghold over the political affairs of the country. They also serve as retirement options for senior officers, as many find placement within the numerous ventures across these foundations.
The commercial empire of the armed forces has received substantial subsidies and concessions from successive governments, which is unseen in the country's history and at the expense of the government's own agencies. As a result, they have horizontally diversified their operations, spanning almost every economic sector, from small-scale businesses like bakeries to real estate, insurance, banks, restaurants, and more. Thus, every economic sector boasts prominent actors from the military foundations.
It is a very challenging task to estimate the valuation of combined commercial enterprises of the Pakistani armed forces because they operate beyond the purview of national auditors, thereby lacking transparency. However, Ayesha Siddiqa, the renowned Pakistani military analyst, in her book 'Military Inc, Inside Pakistan's Military Economy' estimated the 2007 market value of these assets at around $20 billion. Whereas Pakistan's Defence Ministry in a 2016 Senate Session revealed that the country's armed forces run nearly 50 commercial entities, including "projects, units and housing colonies"; a 2019 report in Asia Times claimed that the network of forces business entities had expanded well beyond 100 "with net investment reportedly exceeding $100 billion." The report asserted that the Pakistani armed forces were intentionally "underestimating their investment and disguising their involvement through public sector organisations" to evade "annual audit and scrutiny."
The foremost military organisation whose economic profile has skyrocketed is the Fauji Foundation. It has become one of the largest business conglomerates in Pakistan. Established in 1954 as a charitable trust to look after the welfare of the ex-servicemen and their dependents, the foundation has diversified into "fertiliser, cement, food, power generation, gas exploration, LPG marketing and distribution, financial services, and security services", thereby turning into an effective business enterprise. A Bloomberg report in 2016 claimed that the assets of the foundation skyrocketed by 78 per cent between 2011 and 2016.
Some of the most prominent business ventures include fully owned Fauji Cereals, Foundation Gas, Overseas Employment Services, Fauji Foundation Experimental & Seed Multiplication Farm, and subsidiary entities such as Fauji Fertiliser Company, Fauji Cements, Fauji Oil Terminal and Distillery, Fauji Kabirwala Power Company, Askari Cement, Askari Bank, Fauji Meat, Fauji Fertiliser Bin Qasim Ltd, Fauji Akbar Partia Marine Terminal, Fauji Sugar Mills, Fauji Security Services, among others. The foundation also runs the largest hospital chain and school education network outside the state sector that allows it a high penetration in the social system of the country.
The Pakistan Army also operates the country's largest construction firm, the Frontier Works Organisation (FWO), which has expanded its business operations beyond Pakistan, while overseeing the National Logistics Cell (NLC) and the Special Communications Organisation (SCO). Through strategic appointments across within the important state departments and agencies, the Pakistani Army ensures that FWO and NLC secure high-value construction contracts, such as the Karakoram Highway, generating both revenue and positioning itself as the most capable institution for nation-building in the eyes of the common Pakistani populace. Furthermore, SCO maintains its grip on the telecom and internet sector of the country, profiting from selling its services to the state at the expense of civilian authorities and government agencies, which have been systematically marginalised.
Given that Pakistan's military is the largest landowning institution of the country with its land holding of over 11.85 million acres of land, valued at over $116 billion and constituting 12 per cent of the total state land, it has gradually emerged as Pakistan's most influential real estate developer through its real-estate arm, Defence Housing Authority (DHA). The housing authority has launched multiple residential projects on the prime state land under its control across all major urban centres of Pakistan such as Karachi, Lahore, Rawalpindi, Islamabad, Multan, Gujranwala, Bahawalpur, Peshawar and Quetta. Interestingly, it not only provides for the housing needs of the armed forces but sells its properties to civilians as well, like private realtors. This is aside from the housing projects of FF, SF, BF and AWT. Pakistan Army has turned DHA into a profit-making venture to essentially serve the interests of its officer class.
Moreover, the reason why the economic distress does not percolate down to the armed forces is perhaps also because of incentivising its land holding for the benefit of the officer class. This is important given nearly 64 per cent of Pakistan's landholding wrests with 5 per cent of the population, rendering close to 80 per cent of rural peasants homeless and bonded to the feudal system and hence the largest, yet most affected section of the population. With the Pakistan Army's exclusive power to change the land character to private usage and the tradition of giving land incentives to its members, nearly 6.8 million acres are owned by individual military personnel.
For instance, Major General and above rank holders are entitled to 240 acres, and Brigadiers/Colonels, Lt Colonels, Lieutenants to Majors, JCOs, and NCOs with 150, 124, 100, 64 and 32 acres, respectively. "A Corps Commander's net value in property terms is approximately Pakistan Rs 1 billion (calculation based on value of properties that a general gets starting from rank of a major to a 3-star)," claims Siddiqa.
Likewise, the second most profitable defence enterprise is the Army Welfare Trust (AWT). Also known as Askari Group of Companies, it was established in 1971 as a tri-service, but has been overtly dominated by the Pakistani Army. Some of its business ventures include Army Welfare Sugar Mills, Askari Project (shoe and woollen), Army Welfare Mess and Blue Lagoon Restaurant, Askari General Insurance, Askari Aviation Services, Askari Bank, MAL Pakistan, Askari Guards, Askari Fuels (CNG), Askari Farms and Seeds, Askari Enterprises, Askari Real-Estate, AWT investments, Askari Apparel, Askari Lagoon, among others. The economic clout of AWT can be gauged by the fact that Askari General Insurance and Askari Life Insurance are listed on the Karachi Stock Exchange.
Another significant defence commercial establishment is the Shaheen Foundation, founded in 1977 with the aim of promoting welfare activities for Pakistan Air Force personnel and generating funds "through industrial and commercial enterprises" for their benefit. Some of its notable business ventures include Shaheen Airport Services, Shaheen Aerotraders, Shaheen Knitwear, Shaheen Complex, Shaheen Medical Services, Hawk Advertising, Fazaia Welfare Education School System, SAPS Aviation College, Air Eagle Aviation Academy, and the Shaheen Welfare Housing Scheme.
Similarly, the Bahria Foundation, the charitable arm of the Pakistan Navy, was established in 1982 with a mandate to oversee welfare programs for Navy personnel. It has "engaged in diversified industrial, commercial, and developmental activities" across a number of economic sectors. Although smaller compared to its Army and Air Force counterparts, the foundation is estimated to have a value of around $69 million and operates over 19 companies, including Bahria Construction, Bahria Town and Housing Schemes, Bahria Complexes, Bahria Bakery, Bahria Shipping, Bahria Coastal Services, Bahria Catering and Decoration Services, Bahria Farming, among others.
These examples illustrate how the Pakistani armed forces have ensured the profitability of their economic ventures, even as the country faces potential default in case external assistance ceases to come by. This is very likely given the military establishment's resistance to any structural reforms in Pakistan's economic sector and strengthening accountability and transparency mechanism, which the foreign creditors have been insisting on since long before committing any further money to Islamabad. All in all, while the Pakistani military elite profits from the country's economic misery, common Pakistani lives continue to bear the brunt of Pakistan's economic mismanagement by the military-controlled establishment.