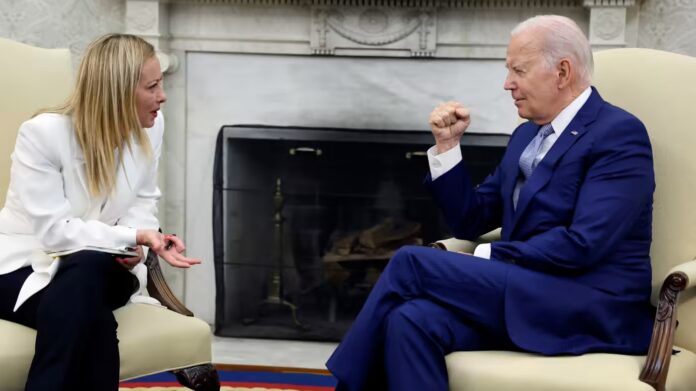 Joining China's vast Belt and Road Initiative (BRI) was an "atrocious" decision, Italy's defence minister has said, and the issue was how to leave it without damaging ties with Beijing.
Guido Crosetto said in an interview published on Sunday that the move made four years ago under a previous government had done little to boost exports, while Chinese exports to Italy had soared.
Italy signed up to the BRI in 2019, becoming the only major western member. Crosetto is part of an administration that is considering how to break free of the agreement.
The BRI scheme envisions rebuilding the old Silk Road to connect China with Asia, Europe and beyond with vast amounts of infrastructure spending on roads and shipping routes. However, critics see it as a tool for China to spread its geopolitical and economic influence – a state-backed campaign for global dominance.
China spent $240bn (£195bn) bailing out countries struggling under their BRI debts between 2008 and 2021, data showed in March this year.
"The decision to join the [new] Silk Road was an improvised and atrocious act" that multiplied China's exports to Italy but did not have the same effect on Italian exports to China, Crosetto told the Corriere della Sera newspaper.
"The issue today is: how to walk back [from the BRI] without damaging relations [with Beijing]. Because it is true that China is a competitor, but it is also a partner."
Crosetto also voiced concerns about Beijing's "increasingly assertive attitudes", its ambition to have the largest military presence in the world and its ambitions to expand, particularly in Africa. "They don't hide their goals, they make them explicit," he said.
After a White House meeting with the US president, Joe Biden, on Thursday, the Italian prime minister, Giorgia Meloni, said her government had until December to make a decision on the BRI, and also announced she would soon travel to Beijing.
In an interview on Saturday with the TG5 Italian news programme, Meloni said it was a "paradox" that while Italy was part of the BRI, it was not the G7 country with the strongest trading links to China. "This shows that you can have good relations and trading partnerships [outside the BRI]."