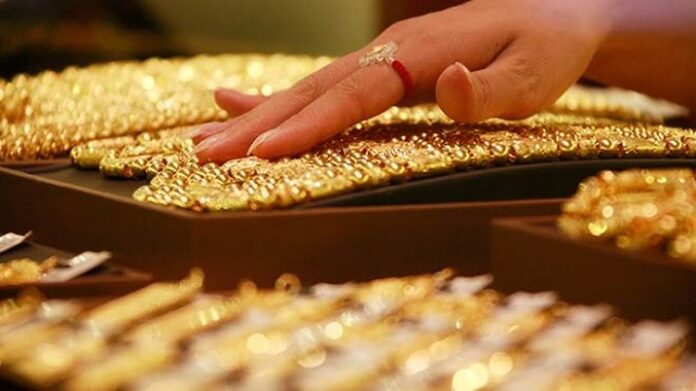 Gold rate today: On account of strong U?S dollar and hawkish US Federal Reserve on rising US inflation concerns, gold prices continue to remain under sell off pressure and hover around 2-month lows. Gold price today opened lower in domestic market at ₹55,397 per 10 gm and went on to hit further lower levels in early morning session. The yellow metal price corrected in international spot market as well and made intraday low of $1,806.78 per ounce in morning deals on Monday session. However, US dollar rates continued to remain strong on US Fed interest rate hike speculations. After witnessing some profit booking in early morning session, Dollar Index regained its lost ground and added 0.03 per cent and hit 105.190 levels.
According to bullion market experts, gold rates today is under pressure due to stock US economic data, which has stoked inflation fear among the US Fed officials that has provided fodder to interest rate hike speculations. They said that due to expected US Fed interest rate hike, US dollar rates have also rallied and Dollar Index has climbed to 105 levels and sustained above this psychological levels since last weekend sessions.
Why gold prices are falling?
On why gold rates today under sell off heat, Marc Despallieres, Chief Strategy and Trading Officer at Vantage said, "Gold suffered from daily losses with a 0.62 per cent loss for the day after dropping to the lowest levels in two months below $1,810 level during US trading session, as the strong US data underpinned hawkish Federal Reserve concerns and weighed on the yellow metal."
Marc Despallieres expected weakness in gold prices to continue further as the recent series of strong United States economic data and hawkish Federal Reserve (Fed) commentary have heightened expectations for three rate hikes this year – 25 basis points (bps) each in the March, May and June meetings.
However, Marc Despallieres cautioned gold investors about corrective pull back citing, "In the technical perspective, the four-hour scale RSI indicator dropped below overselling level, suggesting that the pair was under heavy bearish pressure, but market participants should be cautious about corrective pullback. As for the Bollinger Bands, the gold was pricing below the lower band and the size between upper and lower bands get larger, showing the downside tendency would persist in the near future."
Gold price outlook
On gold price outlook, market expert Sugandha Sachdeva said, "Gold prices as of now are witnessing a corrective rally and seem vulnerable to further decline. There may be an intermittent bounce back but the trend looks skewed on the downside in the near term. In the international markets, prices have breached the crucial support of $1,820 per ounce and look primed to target the $1,785 to $1,780 per ounce zone."
Sugandha went on to add that gold future contract for April 2023 on MCX has pierced the support of ₹55,500 per 10 gm last week and seems en-route to the level of ₹54,500 per 10 gm in the near-term and eventually ₹52,700 per 10 gm from a medium-term perspective. she maintained that ₹52,700 per 10 gm is expected to remain strong cushion area for gold price in short to medium term.