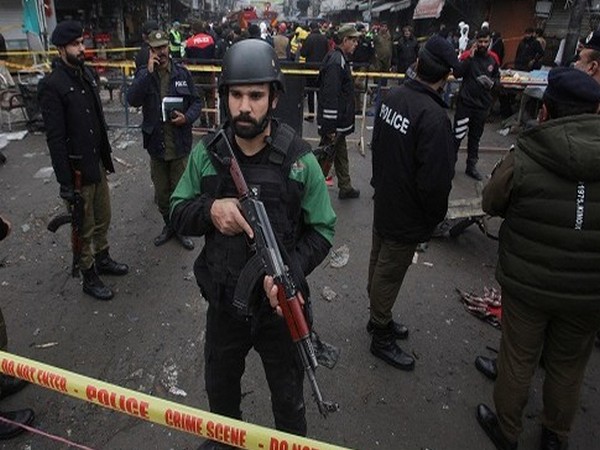 Khyber Pakhtunkhwa [Pakistan], March 30: At least four policemen, including a Deputy Superintendent of Police (DSP), were killed and five others were wounded when terrorists attacked Lakki Marwat's Saddar police station on Thursday in Khyber-Pakhtunkhwa.
At around 1 am, the terrorists attacked Saddar police station with modern and heavy weapons. The police personnel, who were already on alert, responded with retaliatory fire due to which the terrorists escaped in the darkness of the night.
At least five police personnel were injured in the firing incident. The outlawed Tehreek-e-Taliban Pakistan (TTP) has claimed responsibility for the attack.
Prime Minister Shehbaz Sharif expressed grief over the incident. "The sacrifices of our police officers/men in the war against terrorism are unforgettable. May Allah grant the martyrs a place in His mercy and speedy recovery to the injured," he tweeted.
The latest attack comes as terrorism in Pakistan has been rearing its head again. Over the past few months, the law and order situation in the country — especially in Khyber-Pakhtunkhwa and Balochistan has worsened — with terrorist groups executing attacks with near impunity across the country.
Since the talks with the TTP broke down in November, the terrorist group has intensified its attacks, particularly targeting the police in KP and areas bordering Afghanistan. Insurgents in Balochistan have also stepped up their violent activities and formalised a nexus with the outlawed TTP, reported Dawn.
Earlier this month, tens of thousands of local residents had once again taken to the streets in the Lakki Marwat district to protest against the ongoing wave of terrorism.
They had demanded of the government to change its policy of appeasement and crackdown against the terrorists with its full might to eliminate the curse and bring peace to the province.
Lakki Marwat is one of the most volatile districts of Khyber-Pakhtunkhwa where terrorists have managed to stage deadly attacks on police in recent months.
Police stations are regularly attacked and police parties are ambushed with deadly effectiveness. Security forces and police have also killed dozens of terrorists in large-scale operations.
In January, a powerful suicide blast in a mosque in Peshawar Police Lines killed 84 people and injured many others.
According to statistics released by the Pakistan Institute for Conflict and Security Studies, an Islamabad-based think-tank, January 2023 remained one of the deadliest months since July 2018, as 134 people lost their lives — a 139 per cent spike — and 254 received injuries in at least 44 militant attacks across the country.