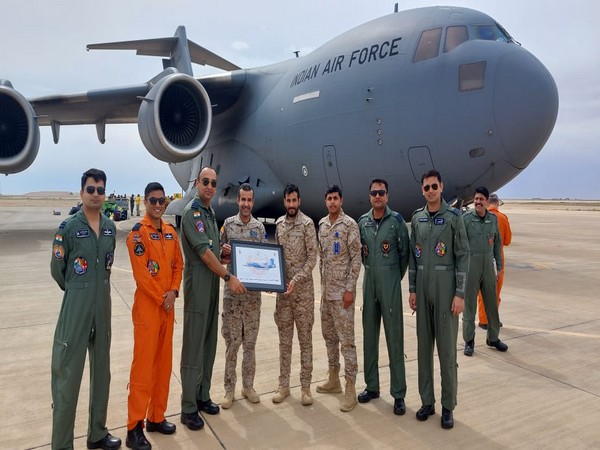 Riyadh [Saudi Arabia], March 30: Indian Air Force (IAF) contingents which participated in the month-long joint training exercises with six other Air Forces as part of the multilateral 'Exercise Cobra Warrior' in the UK has taken off for India after an administrative halt in Saudi Arabia, officials said.
"On 30 March, @IAF_MCC Contingent of 08 aircraft including 5 MIRAGE 2000 fighters with 145 Air warriors took off from Saudi Arabia for India after a 2 administrative halt. During their stay in the Kingdom, the contingent was extended all hospitality and assistance by the Saudi authorities," tweeted the Embassy of India, Riyadh.
Exercise Cobra Warrior was held at the Waddington Air Force Base of the Royal Air Force in United Kingdom from March 6 to March 24 this year.
The multilateral Air exercise saw participation of Air Forces from Finland, Sweden, South Africa, United States of America and Singapore alongside United Kingdom's Royal Air Force and the IAF.
The IAF sent five Mirage 2000 fighters along with IL-78 mid-air refueller aircraft, and two C-17 Globemaster. The aim of the exercise was to participate in diverse fighter aircraft engagements and learn from the best practices of various Air Forces.
"The @IAF_MCC contingent was on its return journey after participating in the month-long EX Cobra Warrior in the UK. All the Air Warriors expressed their heartfelt thanks to the Saudi authorities and the Indian Embassy officials for making their stay a memorable one," tweeted the Indian Embassy.
The month long exercise involved high-intensity, large-force, and tactical air warfighting operations. The Mirage-2000s were drawn from all three existing squadrons, including those that took part in the Balakot air strike in February 2019.The Cobra Warrior is one of the largest Royal Air Force exercises. During the exercise, the Royal Air Force provides special training to pilots from different countries. The exercise is being conducted for more than a decade. The Cobra Warrior is considered one of the most challenging exercises in the world.
During the exercise, the Royal British Air Force offered Qualified Space Instructors Courses, surveillance, Multi-Engine Tactics, Qualified Weapons Instructors, etc. To qualify for these war strategies the Air Force crew had to seek intense training provided by the British Royal Air Force.
Finland, India, and Saudi Arabia joined Exercise Cobra Warrior for the first time. The initial plan was to bring in indigenous Light Combat Aircraft (LCA) Tejas, but they were busy with another exercise, so the Mirage-2000s were deployed. The Saudi Arabian Air Force flew six Eurofighter Typhoons from RAF Coningsby base, while the Indian team, Finnish team, and Belgian Air Force flew six F/A-18 Super Hornets and six F-16s, respectively, from Waddington airbase.