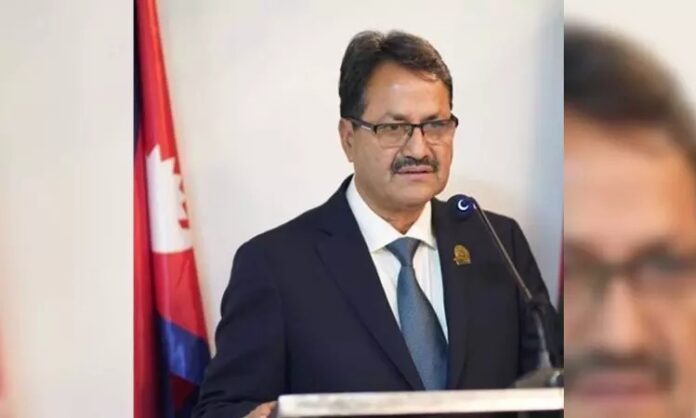 KATHMANDU: Nepal Foreign Minister NP Saud has said that China's Belt and Road Initiative (BRI) project has not been implemented in Himalayan country so far.
Recently, Chinese Ambassador to Nepal Cheng Song said that Pokhara International Airport was built under the BRI project, while Minister Saud clarified that BRI has not been implemented yet.
Nepal, after taking the loan of Rs 25 billion constructed an international airport in Pokhara whose loan agreement was signed in 2012 before the BRI was announced by China in 2013.
Nepal and China signed the framework agreement on BRI in 2017 but due to the differences between Nepal and China, no project has been implemented despite Beijing's repeated request with Nepal to implement some projects which is considered as flagship projects of Chinese President Xi Jinping.
In the meeting of the International Relations and Tourism Committee held on Monday, Saud said that even though Nepal signed an agreement with the Chinese government for BRI in 2017, no plans have been made under it so far.
There is a considerable amount of concern from the Chinese side about slow progress of BRI at a time Nepal is moving forward for implementing the American flagship project called Millennium Challenge Corporation (MCC). Nepal and the MCC headquarters signed the MCC in 2017 when Nepal also signed the BRI with China.
The MCC project is coming into the force from next month where Nepal has received $500 million and a small chunk of $160 million is being invested by Nepal. Beijing and Washington exchanged heated debate in early 2022 after Nepal's parliament decided to ratify the MCC Nepal Compact.
Minister Saud also said that the American aid project Millennium Challenge Corporation (MCC) will go into the implementation phase from August.
The MCC fund will be utilised to construct high-voltage transmission lines and road expansion.
"The MCC project will go into the implementation phase from August and it will be completed in five years. And, since MCC is an American grant, it has gone into the implementation phase. About BRI, Nepal has signed an MoU with the Chinese government in 2017, after which we are at the stage of further discussion regarding its implementation. No project under this programme has been started in Nepal," said the foreign minister.
Minister Saud said that relations with neighbouring countries India and China should be strengthened.
We should not compare the relationship between India and China against each other, he said, we have to strengthen the relationship with both India and China but should not be compared with each other.
"Nepal's relationship with India is historic and unique, and it is also important in terms of open borders, our two-thirds of trade is happening via India, and transportation facilities," he said adding, Nepal is committed to one-China policy and insisted that Nepal will not allow its land to be used against its neighbours.