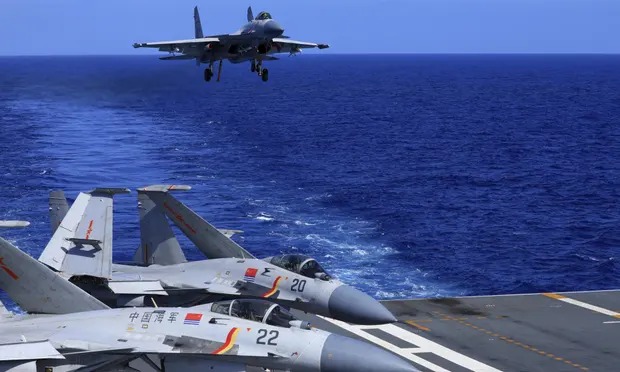 Nato leaders and their allies are heading to Vilnius, Lithuania, this week, for two days of meetings starting on Tuesday. Among them is Yoon Suk Yeol, South Korea's president, who will give one of the opening speeches.
The summit will be dominated by discussions about the alliance's relationship with Ukraine. But Yoon's attendance reflects a growing interest among members in stepping up their dialogue with countries in the Asia-Pacific.
In an op-ed published on Monday, Jens Stoltenberg, Nato's secretary general, said: "China, in particular, is watching to see the price Russia pays, or the reward it receives, for its aggression" in Ukraine. Leaders in South Korea and Japan were clearly concerned that what was "happening in Europe today could happen in Asia tomorrow", he added.
Stoltenberg did not mention Taiwan by name. However, it is the possibility of a conflict between China and the island, which Beijing considers to be part of its territory, that is animating Nato's engagement with the region.
Last year, at a summit held months after the Ukraine invasion, Nato said that as well as Russia, China posed a systemic threat to the interests of member states.
A strategy published at the summit in Madrid, which also included heads of state from Australia, Japan, South Korea and New Zealand for the first time, said China was the source of "systemic challenges" including threats to supply chains, infrastructure and "military tools to increase its global footprint and project power". The Chinese foreign ministry said the statement sought to "stoke confrontation and antagonism" and accused Nato of "hyping up the so-called 'China threat'".
But from Nato's perspective the threat posed by Beijing is not just a hypothetical. "China is dramatically expanding its military capabilities in a largely non-transparent way, including in nuclear capability," said James Mackey, the alliance's director of security policy and partnerships. "We see China trying to influence global norms and standards, including through the UN system."
At the summit in Vilnius, leaders from the Asia-Pacific region will be trying to make the case to Nato members that, as Stoltenberg said in June: "What happens in Asia matters for Europe and what happens in Europe matters for Asia." But although many have drawn parallels, either explicitly or implicitly between Ukraine and Taiwan, the alliance is also trying to balance a robust response to Beijing's actions against accusations of territorial overreach.
"We need to be clear that Ukraine is not Taiwan," said Mackey. "Ukraine is a sovereign state of the UN, and Nato is helping Ukraine to exercise its right to self-defence."
"From a Nato perspective, Nato is not involved in Taiwan, it's not an area that's in our area of responsibility."
The alliance's position on Taiwan is that it opposes any unilateral change to the status quo in the East China Sea, which would have "global security ramifications", according to Mackey.
But analysts note that China's footprint inside Nato members' territory is becoming harder to ignore. The alliance's increased engagement with partners in the Asia-Pacific is "not just about Nato looking east", said Meia Nouwens, a senior fellow at the International Institute for Strategic Studies, a thinktank. "China has been operating west as well, militarily," she said, noting that the Chinese navy has conducted live fire drills in the Mediterranean.
Some analysts also argue that any Chinese attack on Guam, a US territory in the Pacific Ocean, could represent an assault on Nato.
But questions about territorial mandate and concern about antagonising China, which has accused Nato of "eastward expansion", mean that dialogue with countries in the Asia-Pacific region will remain charged.
Nato members are divided on how to engage with China. In May, Hungary's foreign minister said cooperation with China presented "opportunities rather than risks".
At this week's summit, members were expected to defer a decision on whether or not Nato should open a liaison office in Tokyo after France made clear it opposes the plans. Expanding the alliance's footprint in the Indo-Pacific would be a "big mistake", said a French foreign ministry spokesperson. Beijing, which called the plans an attempt to "destroy regional peace and stability", would probably agree.