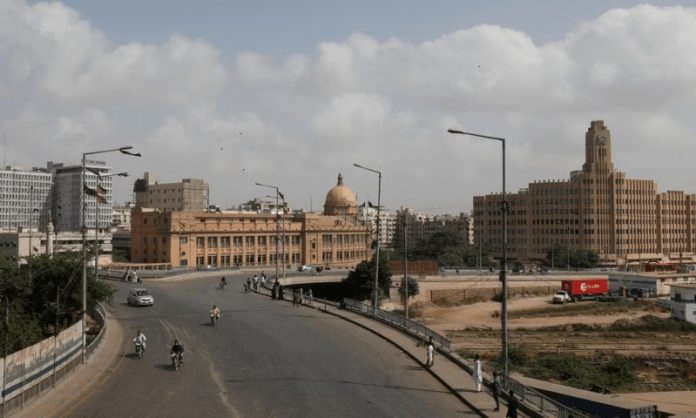 Growing up in a Pakistani household, lessons in "saving something for a rainy day" are inculcated into children from a young age. These savings could be in the form of cash or assets, like gold. For every family, the definition of a "rainy day" varies, but in our parlance, they broadly refer to any event that throws the family's finances off the rails — a wedding, sudden illness and business losses, etc.
Such savings were allocated for major expenses, not meeting day-to-day needs. However, in recent times, amidst a spiralling economic crisis and ballooning inflation, this distinction is fast eroding. More families are now compelled to cut into their financial safety nets to meet daily needs, like power bills, sch­ool fees for children, house rent and other expenses.
Zubaida Bibi is a widow who lives in a rented house in Taxila's Bilal Colony.
When her electricity bill for August upended the household budget, she was left with no other option but to pawn her three-decade-old engagement ring with a neighbour and borrow money to pay the bill.
She hoped to get the ring back after receiving her pension funds, which were yet to be released.
Karachi resident Ahmed Zaman, 40, is the sole breadwinner for his family of six. His monthly salary of Rs150,000 was enough to manage household expenses up until last year, but not anymore.
"This month, I asked my wife for some help and she sold her gold earrings which she got at our marriage," he told while giving a breakdown of his daily cost of living which has "gotten out of hand".
"The house I live in has Rs35,000 rent, and my last electricity bill was over Rs40,000," he said, explaining how half of his salary is consumed in only two expenses.
Debt cycle
It is also tough going for families with multiple Living in Pakistan's largest city, three of the seven members of Hussain Shabbir's family contribute to the household budget. Even then, it has become impossible for them to take care of their expenses, Mr Shabbir, 25, told.
"My father, brother and I work. We have a combined income of around Rs130,000, but for the last couple of months, I had to borrow money from friends near the month's end."
For him, this is becoming a "debt cycle".
"I return the money to one person and immediately find myself in need to borrow more from another for the next month," he said, adding that his father and brother were also dealing with similar debt cycles.
For now, Mr Shabbir's family has created some fiscal space for themselves by selling their car to pay off some debts. But with inflation not slowing down, they fear the respite would only last them a couple of months.
Cutting expenses
Those who are not in dire need to sell assets or borrow money are trying to squeeze their spending by cutting out expenses that are not the bare essentials needs.
31-year-old Sameer Rashid recently became a father. He thought a monthly income of Rs100,000 would be sufficient to sustain his nuclear family, but ground realities beg to differ.
Sharing his monthly budget, he said: "The expenses of my newborn alone are Rs12,000 to Rs13,000. Sometimes even more than that, but not less."
This month, Mr Rashid paid Rs30,000 for electricity. He owns a motorcycle and spends Rs13,000 on fuel to get to work.
"Ration and other necessary items cost no less than Rs25,000 for two people [and] these are just the most basic expenses," he told.
"I have stopped going to family functions and other ceremonies because I just don't have the money to buy gifts to give on such occasions."
While rationalising expenses seems to be a logical outcome of the crunch economic situation, it is inadvertently causing a spiral of distress for retailers and others in the services industry who rely on this spending.
Skimping on food
Ehsan Ali owns a poultry shop in the Lalarukh area of Taxila. In the recent past, he has seen his sales drop to almost 60 per cent of what they used to be.
With the number of his daily customers declining, he has been relying on hotels, restaurants and marriage halls to keep his shop running.
The prices of poultry have gone out of reach of the common man due to inflation, Mr Ali told Dawn, adding that customers now buy off cuts such as pota, kaleji and chicken legs instead of meat, as they cannot afford it anymore.
Aftab Hussain, who runs a hotel on Taxila Chowk, has also seen his income dip considerably. Of all things, he has registered a marked decline in the number of orders for tea at his establishment.
"Most of my customers are vendors, drivers and daily wagers. They now order the token (half-cup) tea instead of a full cup as it costs them half the price," he told.
Similarly, the meat dishes he cooks at his hotel, like qeema, qorma and beef, now attract 80 per cent fewer consumers, as they now prefer cheaper dishes such as vegetables and lentils.
The alterations to lifestyle have gone beyond cutting basic expenses. People have been forced to move a notch down and choose a cheaper alternative to almost everything — their food choices, their homes, cars and their children's education.
Alternatives to education costs
Hamyuan Butt, an administrator of a seminary on Faisal Shaheed Road, claims the enrollment has doubled in the past two months as people take their children out of private schools and opt for religious seminaries, which cost far less in terms of fees and other expenses.
Even people from the middle class are enrolling their children in the seminary, which provides free-of-cost accommodation facilities to pupils.
In the past, he says, primarily orphans and children from lower-income or religious backgrounds used to enrol in the seminary.
"But the situation is changing with each passing day. Now people cannot afford to feed their children and are enrolling them in institutions where free food and lodging are provided for," he added.
Long-term effects
So what happens if such economic adversity is sustained over a long period?
Noted economist Dr Kaiser Bengali recalls a study he worked on over a decade and a half ago, which followed the lives of 30 families of those with medical conditions for over a year. Half of the patients needed dialysis, while the other half had a person living with cancer in the household.
"We saw that families sold their cars, gold and even property to afford the medical expenses, and in many cases, the patient didn't even survive as the disease was chronic."
This has a crippling effect on the family, emotionally as well as financially.
Something similar, he says, is happening with middle-class families now, as they are forced to sell assets to pay for recurring expenses, such as electricity bills and fuel or commuting costs. Ultimately, he fears, it is not sustainable.
He noted that many people had already stopped using cars and shifted to motorbikes, while those who previously owned two-wheelers had resorted to public transport.
If something does not change, it may soon be a choice between sending your children to school or putting fuel in the tank to get to work every day.
Recalling another study by the Social Policy Development Centre from two decades ago, Mr Bengali shared that he and his team found that people had stopped socialising to avoid giving gifts.
Such choices are not normal, and take a toll on people's health, both physically and psychologically.
"What will a man do when his family would ask him for something and he would not be able to provide it? How will he face his children and wife?"