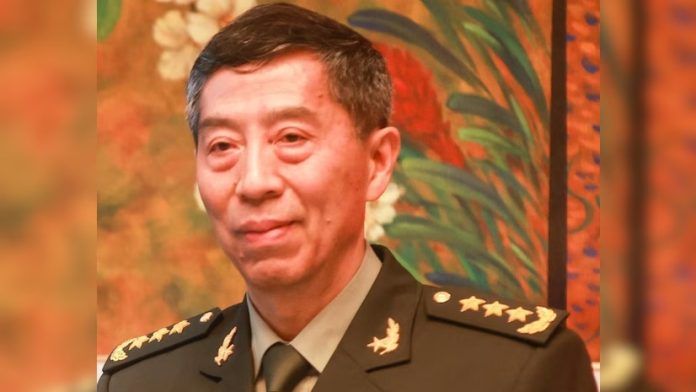 Over the summer, Beijing limited Pentagon chief Lloyd Austin to a single handshake with sanctioned Chinese Defense Minister Li Shangfu at a top military forum. Now, Li's drop from public view could help reboot senior-level military talks between the superpowers.
The Chinese defense chief is reportedly under probe after not being seen in public since Aug. 29 and missing engagements, fueling speculation he's set to be replaced. His removal would eliminate one major roadblock to military talks after Beijing made their resumption conditional on the US lifting its sanctions on Li.
US officials have intelligence that suggests Li, 65, has already been removed from his post, according to a US official familiar with the matter who asked not to be identified discussing the sensitive issue. Neither Beijing nor Chinese state media has provided information on Li's status. China's Defense Ministry didn't respond to a request for comment on Monday. Foreign Ministry spokeswoman Mao Ning said she was "not aware" of the situation at a regular briefing in Beijing.
China's relationship with the US has stabilized in recent months after cratering in summer 2022 over then-House Speaker Nancy Pelosi's visit to Taiwan. President Joe Biden has sent four cabinet-level officials to Beijing since June to rebuild communication lines and smooth the path for leader talks.
The next opportunity for those is when Chinese President Xi Jinping is expected to travel to San Francisco in November. US National Security Adviser Jake Sullivan and Chinese Foreign Minister Wang Yi met this weekend to discuss a possible meeting with Biden at the APEC summit, according to people familiar with China's preparations for the meeting.
Li's removal could help thaw ties at the military level but it won't erase larger problems between the superpowers, according to Li Nan, a visiting senior research fellow at the East Asian Institute of the National University of Singapore.
"It may help, but it doesn't guarantee a smooth bilateral interaction," he said. "There are still other reasons why the US-China relationship isn't going well."
China froze top-level military ties in retaliation to Pelosi's trip to Taiwan, long before Li took up his post in March. That lack of communication has prompted fears an accident between the nuclear-armed powers in the South China Sea could spill over into a broader conflict that would be catastrophic for the region and global economy.
With Li in place, efforts to resume talks had reached a deadlock. China had cited the sanctions as an obstacle that "should be removed before any exchange and cooperation could take place." The US said in May it had no plans to lift curbs on the defense chief, appearing to walk back Biden's earlier comment that such a move was "under negotiation."
Lower-level military ties have resumed in recent months. Admiral John Aquilino, who leads the US Indo-Pacific Command, met General Xu Qiling, deputy joint chief of staff of the People's Liberation Army, in Fiji last month, allowing for some communication.
Now, China appears to have made the conditions for top-level talks more favorable, even if that wasn't Xi's intention. Any change involving Li move would relieve Biden of the need to make an awkward choice between military stability with China and giving in to a demand from its key rival.
Any removal of Li – whose main role is the Chinese military's top diplomat – raises other questions about tensions within the Chinese government. Li would be the second minister to be abruptly stripped of his role less than a year into Xi's third term following Qin Gang's abrupt ouster from the foreign minister post in July. Two rocket force generals were also purged this summer, also without explanation.
While there are no signs the Chinese leader's rule faces any major challenge, such turbulence fans concern among investors and governments that Beijing is being increasingly hard to read.
"It sends a bad signal about China's governance," said Dongshu Liu, assistant professor specializing in Chinese politics at the City University of Hong Kong. "These problems reinforce fears that China is unstable and unpredictable. It may also ignite concerns about political stability."
It's "too early" to speculate over who might replace Li after the recent purges, he said. "It's hard to know who can finally survive."
The disappearances of Li and Qin didn't come up during the discussion between Wang and Sullivan this weekend, and the US official didn't raise the matter, a senior administration official said.
Unanswered Questions
With Li's status unclear, China watchers are now left piecing together clues of his situation. The defense minister reportedly skipped an annual meeting with Vietnamese military leaders earlier this month on short notice, with Beijing citing health reasons.
That absence came after the People's Liberation Army in July announced a corruption probe into hardware procurement going back to October 2017 — the month after Li took over the equipment department.
Li is now under investigation for corruption related to the procurement of military equipment, Reuters has reported, citing a regional security official and three people in direct contact with the Chinese military.
Whatever the reality, Li's downfall would raise fresh questions about the state of China's military as the world tries to ascertain whether Xi wants to invade Taiwan, the self-ruled island it claims as its own territory — and whether the PLA is even capable of such a task. China sent a record 103 warplanes into the area around Taiwan in the 24 hours to early Monday, the latest reminder of cross-strait tensions.
After an alleged Chinese spy balloon flew over the US at the beginning of the year, Biden said Xi wasn't aware of the aircraft's location — implying the Communist Party leader didn't have full control of his armed forces.
Any purge of Li so soon after being installed might also negatively reflect on Xi's hold on the military, as his decade-long campaign to clean up the PLA looks far from over.
"Corruption remains a persistent problem," Bates Gill, executive director of the Asia Society Policy Institute's Center for China Analysis, wrote in a recent note. "We have to question Xi's ability to fully exert his authority over the vast empire that is the PLA."