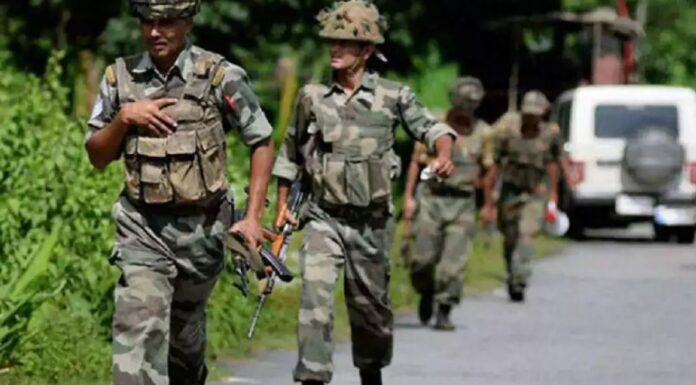 Srinagar: After Jammu and Kashmir's transition into a Union Territory, the Centre has ensured that youth remain a focal point. Various schemes have turned them into successful entrepreneurs and they have become brand ambassadors of 'Naya J&K'.
J&K's generation-next has understood that guns, grenades and stones won't take them anywhere except to the graveyards. They are choosing careers and becoming self reliant to chase their dreams.
On the other hand a few youth are still getting carried away by the propaganda of hate and violence being preached by the terrorist handlers sitting across the Line of Control.
These youth are being lured into terrorism by indoctrination and other means. Most of them end up losing their lives in encounters with the security forces but before getting eliminated they devastate families by killing innocents and soon after taking up arms they wreak havoc on their own families.
On one side progressive youth in J&K are chasing their dreams, on the other there are youth, who have turned into hybrid terrorists, and are choosing death over life. These are two sides of the same coin.
In 2021, 44,403 youth got financial assistance
After August 5, 2019 — when the Centre announced its decision to abrogate so-called special status of J&K and divided it into two Union Territories — the government has put in relentless efforts to instill confidence among the youth that they can become a force to reckon with and live decent lives.
In 2021 the government extended financial assistance to 44,403 young boys and girls, Self-Help Groups to realize their dreams and transform their entrepreneurial ideas into reality. In the first 4 months of this year, 3,407 youth have been turned into entrepreneurs by the financial help provided by the authorities.
Under Prime Minister's Stand Up India Mission, 1,560 beneficiaries have received the credit of Rs 10 lakh to Rs 1 crore for starting their business ventures. More than 2.62 lakh accounts have been opened, and Rs 5,696 crore has been disbursed to small and micro-entrepreneurs under the MUDRA Yojana.
For the first time in the past 70 years, the street vendors in Jammu and Kashmir have been connected with the banking facility and loan has been disbursed to 14,682 beneficiaries till date.
5 schemes playing pivotal role
Five important schemes, Mumkin, Tejaswini, Youth Clubs, Youth Data Bank and Interactive Digital Platform and Tourist Village Network Programme have played a pivotal role in empowering youth.
The Mumkin scheme has facilitated the J&K youth to establish a sustainable livelihood in the transport sector. It provides financial assistance for acquisition of new small commercial vehicles. The applicants can choose any small commercial vehicle of any approved models/makes of his/her choice.
The bank provides 100 per cent finance of the on road price and the government provides an amount of Rs 80,000 or 10 per cent of on-road price of the vehicle as upfront subsidy towards the loan amount of the beneficiary under the scheme.
Another scheme Tejaswini is empowering women in J&K. It inspires young women to take up activities either in manufacturing, service, trading, small business etc. Its core focus is to facilitate soft finance for setting up new units/enterprises or for expansion/modernization of existing units or for acquisition of fixed assets (plant and machinery, equipment, furniture & fixtures). Under the scheme, the eligible potential female entrepreneurs are facilitated to avail financial assistance under Mudra Loan from J&K bank to the extent of 5 lakh.
The scheme's banking partners extend a loan facility to the extent of 100 per cent of the project cost and the government provides an amount of Rs 50,000 or 10 per cent of the project cost. The activities covered under Tejaswini are canteen and restraint, creche, cyber cafe, beauty parlour, day care centre, laundry & dry cleaning, mobile repairing, photocopying centre, training institute, fitness centre, yoga centre or any other profitable activity.
As many as 4,239 Youth Clubs have been constituted across J&K. These clubs are engaging young volunteers, who get an opportunity to work through real challenges and make meaningful change in the society. These clubs are helping youth to become equal partners in the governance process in 'Naya Jammu and Kashmir'.
Another initiative 'Youth Data Bank and Interactive Digital Platform' has addressed shortcomings of official statistics regarding J&K youth. It has created a repository of consistent and reliable youth statistics required for short and long-term planning and implementation of youth engagement and empowerment programmes.
Besides these programmes, the government has launched 'Tourist Village Network' to boost the tourism industry. Under the initiative, over 75 villages in J&K have been identified to promote tourism and provide sustainable employment to the local youth from these areas.
The youth-led sustainable tourism initiative has strengthened the rural economy and community entrepreneurship, It has empowered them by providing direct and indirect employment opportunities.
Hybrid terrorists sabotaging peace, development
The terrorist handlers sitting in Pakistan are finding it hard to digest that J&K's generation-next is not interested in carrying forward their proxy war as the youth are busy building their lives. The number of progressive youth is higher than the radicalized ones.
The recent target killings in Kashmir have been the handiwork of the hybrid terrorists who are not on any terror lists but are radicalised enough to carry out a strike and then slip back into routine life.
According to the figures available with the security agencies as on date there are around 160 terrorists active in Kashmir, among them 70 are locals and 90 are foreign operatives. The number of hybrid terrorists is estimated to be around 50. The ones involved in the target killings have been using pistols that are easy to carry and dump.
Since August 2019, 90 Kashmiri Muslims and 18 Kashmiri Pandits and Hindus have been killed in the Valley during the same period. Maximum of the target killings have been carried out by the hybrid terrorists.
Last month 14 encounters took place in which 27 terrorists were killed; of these, seven were Pakistani while 20 were local terrorists. This was the highest number of kills in a month this year.
In 2021, 189 militants were killed in different gunfights with security forces in J&K. Among the slain, 85 per cent were local terrorists, while 15 per cent were Pakistanis. In 2020, 203 ultras were killed, while 160 militants were eliminated in 2019 followed by 257 ultras in 2018. In 2017, 213 militants were killed whereas 150 terrorists were killed in 2016.
Security forces have been maintaining tremendous pressure on terrorists. Anyone who joins terror ranks finds it difficult to survive. The local youth, who get radicalized, on the instructions of their handlers are targeting innocents before getting killed.
The security forces have launched a final assault against terrorism in Jammu and Kashmir and terror is on its last legs. The hybrid terrorists are making every possible attempt to sabotage peace and development in J&K, however, the youth, who have boarded the wagon of peace and development are helping J&K to fight the onslaught sponsored from across the LoC.
The progressive youth in J&K are emerging stronger than the hybrid terrorists and are building 'Naya J&K' at a rapid pace.