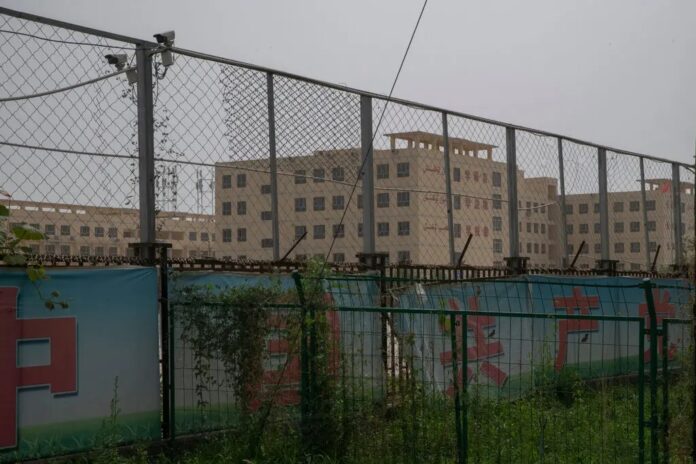 Lawmakers are flagging what they say are likely significant violations of U.S. law by Temu, a popular Chinese shopping platform, accusing it of providing an unchecked channel that allows goods made with forced labor to flow into the United States.
In a report released Thursday, the House Select Committee on the Chinese Communist Party said Temu, a rapidly growing site that sells electronics, makeup, toys and clothing, had failed "to maintain even the facade of a meaningful compliance program" for its supply chains and was likely shipping products made with forced labor into the United States on a "regular basis."
The report stems from a continuing investigation into forced labor in supply chains that touch on China. Lawmakers said the report was based on responses submitted to the committee by Temu, as well as the fast fashion retailer Shein, Nike and Adidas.
The report offered a particularly scathing assessment of Temu, saying there is an "extremely high risk that Temu's supply chains are contaminated with forced labor." The site advertises itself under the tagline "Shop like a billionaire" and is now the second most downloaded app in the Apple store.
The report also criticized Shein's use of an importing method that allows companies to bring products into the United States duty-free and with less scrutiny from customs, as long as packages are sent directly to consumers and valued at under $800. Some lawmakers have been pushing to close off this shipping channel, which is called de minimis, for companies sourcing goods from China.
Lawmakers said that they were troubled by what the bipartisan committee's investigation had uncovered so far, and that Congress should review import loopholes and strengthen forced labor laws.
"Temu is doing next to nothing to keep its supply chains free from slave labor," said Representative Mike Gallagher, a Wisconsin Republican who heads the committee. "At the same time, Temu and Shein are building empires around the de minimis loophole in our import rules: dodging import taxes and evading scrutiny on the millions of goods they sell to Americans."
"The initial findings of this report are concerning and reinforce the need for full transparency by companies potentially profiting from C.C.P. forced labor," said Representative Raja Krishnamoorthi, an Illinois Democrat and a co-author of the report, referring to the Chinese Communist Party.
Temu, which began operating in the United States in September, told the committee that it now brought millions of shipments into the United States annually through a network of more than 80,000 suppliers that sell directly from Chinese factories to U.S. consumers. The site sells clothing, temporary tattoos, modeling clay, electronics and other items directly to consumers for low prices, like $3 for a baby romper, $6 for sandals and $8 for a vacuum.
The report also contained new data showing that Temu and Shein make heavy use of the de minimis rule, together accounting for almost 600,000 such packages shipped to the United States daily.
The shipping method allows retailers to sell their goods to consumers at cheaper prices, since they are not subject to duties, taxes or government fees that apply to traditional retailers that typically ship overseas goods in bulk.
De minimis shipping also requires far less information to be disclosed about the products and the companies involved in the transaction, making it harder for U.S. customs officials to detect packages with narcotics, counterfeits and goods made with forced labor. The number of de minimis packages entering the United States more than tripled between 2016 and 2021, when it reached 720 million.
At an annualized rate, the shipments reported by Shein and Temu would represent more than 30 percent of the de minimis shipments that came into the United States last year, and nearly half of those packages from China, the report said.
Both Shein and Temu have steadily taken market share from U.S. brick-and-mortar retailers and won over younger consumers by investing in sophisticated e-commerce technology and offering hundreds more new products than competitors. Among teenagers, Shein was the third most popular e-commerce site behind Amazon and Nike, according to a Piper Sandler report this spring.
As their popularity has grown, so has congressional scrutiny of the firms, given their ties to China. Shein was originally based in China but has moved its headquarters to Singapore. Temu, which is based in Boston, is a subsidiary of PDD Holdings, which moved its headquarters to Ireland from China this year.
Lawmakers have been questioning their relationship with the Chinese government, as well as the companies' ability to vet their supply chains to ensure they don't contain materials or products from Xinjiang. Last year, the U.S. imposed a ban on products from Xinjiang, citing the region's use of forced labor in factories and mines.
The Chinese government has carried out a crackdown in Xinjiang on Uyghurs and other ethnic minorities, including the organized use of forced labor to pick cotton; work in mines; and manufacture electronics, polysilicon and car parts. Because of this, the U.S. government now presumes all materials from the region to be made with forced labor unless proved otherwise.
Shein said in a statement that it had zero tolerance for forced labor and had a robust compliance system, including a code of conduct, independent audits, robust tracing technology and third-party testing. It provided detailed information to the House committee and will continue to answer its questions, the company said.
"We have no contract manufacturers in the Xinjiang region," it said. "As a global company, our policy is to comply with the customs and import laws of the countries in which we operate."
Temu did not respond to a request for comment.
Laboratory tests commissioned by Bloomberg News in November found that some Shein clothing had been made with cotton from Xinjiang. Shein didn't dispute those findings, but said in a statement to Bloomberg that it took steps in all global markets to comply with local laws and had engaged another lab, Oritain, to test its materials.
The congressional report also criticized Temu's failure to set up a compliance or auditing system that could independently verify that its sellers were not sourcing products from Xinjiang.
Temu told the committee that it had a reporting system that consumers and sellers could use to file complaints, and that it asked its sellers to sign a code of conduct specifying a "zero-tolerance policy" for the use of forced, indentured or penal labor. Temu's code of conduct also says the company reserves the right to inspect factories and warehouses to ensure compliance.
But the code does not mention Xinjiang or the U.S. ban, and Temu told the House committee that it did not prohibit vendors from selling products made in Xinjiang, the report said.
Temu also argued that its use of direct shipping meant that the U.S. consumer, not Temu, would bear the ultimate responsibility for adhering to the ban on Xinjiang goods.
"Temu is not the importer of record with respect to goods shipped to the United States," the report quoted it as saying.
Customs lawyers said that it was not entirely clear which party would be liable for complying with the U.S. ban, but that any company facilitating the importation of goods from Xinjiang could face civil or criminal penalties.
The committee report also pictured a key chain that was listed on Temu's website this month and labeled "pendant with Xinjiang cotton." The key chain itself is shaped like a bud of cotton, and the report said that the Xinjiang label "may refer to the materials, the supplier, the pattern or the origin of the product."
Temu's "policy to not prohibit the sale of products that explicitly advertise their Xinjiang origins, even in the face of mounting congressional and public scrutiny on related topics, raises serious questions," the report said.
Agencies were not able to verify whether the product is made using Xinjiang cotton, which is barred under U.S. law. The Times found an identical product listed for sale on a Chinese wholesale site that was described as manufactured in Henan Province, outside Xinjiang.
A Times review of information shared by Temu vendors on Chinese social media sites also suggested that Temu did not require sellers to provide detailed information about where their products were made or which companies manufactured them.
Vendors sharing tips online about Temu's product review process gave several reasons that Temu commonly rejected new listings: for example, if the price was too high, if the samples were inconsistent with the photos or if the goods lacked consumer warning labels. But none mentioned concerns about links to Xinjiang or the U.S. import ban.