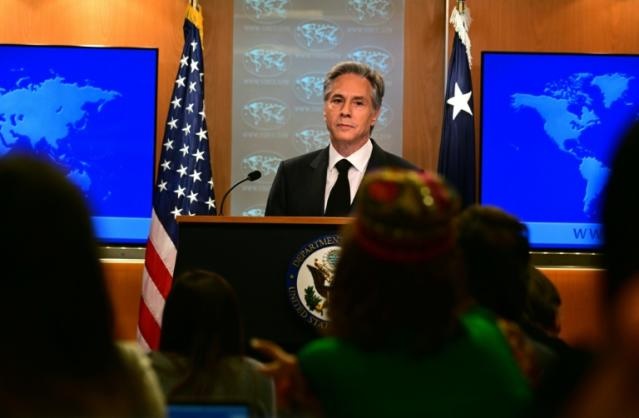 The United States has determined that members of the Ethiopian National Defense Forces (ENDF), Eritrean Defense Forces, Tigray People's Liberation Front (TPLF) forces and Amhara forces committed war crimes during the conflict in northern Ethiopia, U.S. Secretary of State Antony Blinken said on Monday.
Members of the ENDF, Eritrean forces, and Amhara forces also committed crimes against humanity, Blinken told reporters, including murder, rape and other forms of sexual violence and persecution.
Members of the Amhara forces committed the crime against humanity of deportation or forcible transfer and committed ethnic cleansing through their treatment of Tigrayans in the western Tigray, Blinken said.
The determination comes after the top U.S. diplomat's trip to Ethiopia last week, where he praised progress in implementing a peace deal in the country but stopped short of re-admitting it to a U.S. trade program.
The Ethiopian government and forces from Tigray signed a ceasefire in November, ending a conflict that killed tens of thousands of people, left hundreds of thousands facing hunger and displaced millions.
Ethiopian government spokesperson Legesse Tulu did not immediately respond to a request for comment on Blinken's remarks. Prime Minister Abiy Ahmed's spokesperson Billene Seyoum also did not respond to requests for comment.
Additionally, Ethiopian Army spokesperson Colonel Getnet Adane, Eritrean Information Minister Yemane Gebremeskel, TPLF official Getachew Reda, and Amhara regional government spokesperson Gizachew Muluneh did not respond to requests for comment.
Blinken, in his meeting with Abiy last week, discussed "the importance of accountability for the atrocities perpetrated by all parties during the conflict, as well as the need for an inclusive and comprehensive process of transitional justice," the State Department said.
The United States was outspoken in its criticism of alleged atrocities by Ethiopian forces and their allies from Eritrea and the Amhara region during the Tigray war.
Ethiopia, Africa's second most populous nation and traditionally a U.S. ally in East Africa, accused Washington of meddling in its internal affairs and threatened to reassess the bilateral relationship.
It has denied the most serious allegations of human rights violations during the war.