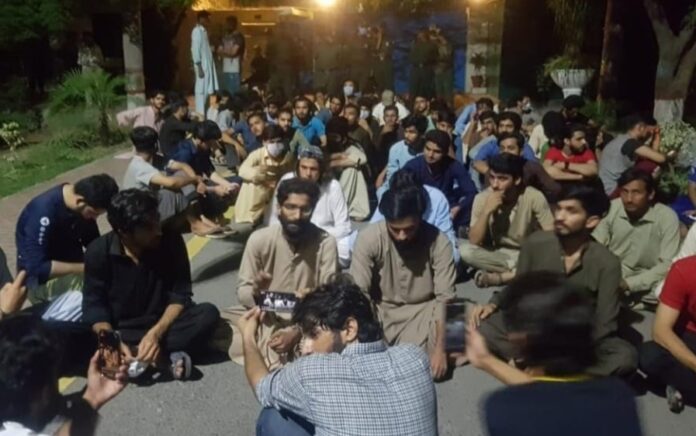 A religious group reportedly attacked the Baloch and Pashtun students at the Punjab University in Lahore and critically wounded several of the students. The police also raided the hostels and arrested several Baloch and Pashtun students.
Baloch Student Council Lahore spokesperson said that the members of the Jamiat attacked the Baloch and Pashtun students and also fired shots at them. He said the police forces were standing there as the Jamiyat members beat up the Baloch and Pashtun students and then escaped. He said that the police also baton-charged the students and arrested them from their hostels. The spokesperson said that the university administration did not do anything to stop the police and the Jamiyat "goons" from attacking peaceful students.
The BSC Lahore condemned the attack and said that the arrested students must be released immediately and the varsity administration must take strict measures against the religious group.
The BSC spokesperson said that despite the protests, rallies and social media campaigns, the Baloch students are being racially profiled and harassed by the administration at the Punjab University and several other universities in Lahore. He said that the police have raided the hostels of Baloch students, beat them up and then arrested them on "made-up charges." He said that the federal and the Punjab officials are using all sorts of tactics to silence the Baloch students. This can only mean one thing – they want to keep the Baloch away from education, the BSC said.
The BSC spokesperson appealed to human rights groups, political and social workers and student activists to take notice of the issue and play their due role in stopping the harassment and profiling of the Baloch students.
The Baloch Student Action Committee said that the "flagrant hooliganism" of the Jamiat and the deafening silence of the police shows the "prejudice" that is ubiquitous in Punjab and elsewhere against Baloch students. the group said that the harassment, racial profiling and extralegal detainment of the Baloch students is illegal and an open violation of human rights. BSAC demanded that the government must assure the safety of Baloch and Pashtun students studying in different parts of the country. The group also demanded the Punjab University administration., Lahore police and member of the violent religious group must be held accountable for their actions.