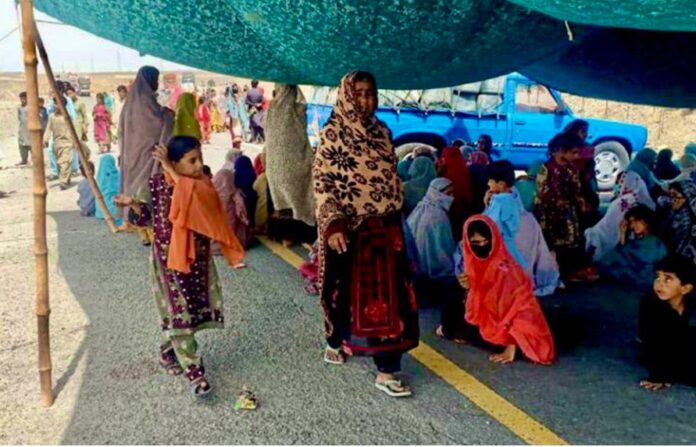 Scores of protestors blocked the main CPEC road in protest, demanding the withdrawal of the security forces from the area. The protestors claimed that the forces had fired several mortar shots at the nearby settlement without any provocation. They expressed relief that no one was injured or killed in the attack but said that such unprovoked violence cannot be tolerated.
According to reports, civilians in the Tejaban area of district Kech took to the streets to demand the removal of the FC check-points withdrawal of the forces stationed on them. They said that the forces must empty the camps and head back home. The protestors blocked the main CPEC road and suspended the traffic for several hours. The road in question was also blocked a few days ago in a protest against the "enforced disappearances" of Baloch women at the hands of Pakistani forces.
The protestors said that the forces had fired several mortar shots at the civilian settlements in the dead of the night. They said that the attack was carried out without any provocation from the locals. It should be noted that the forces have been blamed before for "reckless tactics." They had also fired a mortar shot in a densely populated civilian settlement in October 2021 which killed one child and wounded another. The family members blamed the FC for the attack, but the forces denied the allegations. The family members of the two children refused to bury the slain child and protested for several days in Turbat and Quetta. The court took notice of the issue and suspended Assitant Commissioner Kech Aqeel Kareem and Tehsildar Hoshap Rasool Jan. The court also directed the officials to carry out an investigation of the incident and fix responsibility on the culprits.
The suspended officers were reinstated by the Supreme Court of Pakistan in November and there is still no news on the investigation.
The forces had also allegedly shot dead an elderly woman named Taj Bibi in the Askani area of Kech in September last year. The woman, along with several others, was going to collect woods when the forces opened fire and killed her.