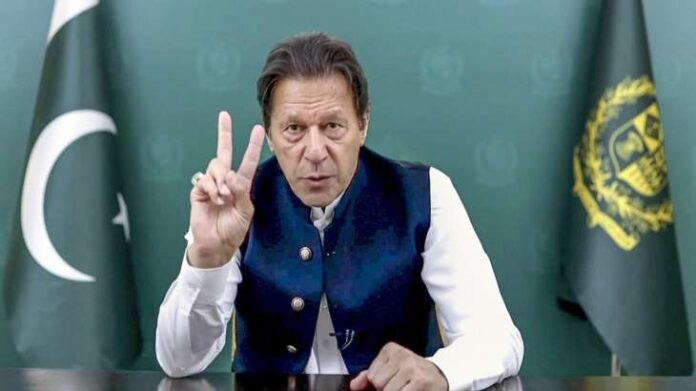 Islamabad [Pakistan], March 6: Pakistan's Anti-Terrorism Court (ATC) on Monday extended the judicial remand of four suspects in former prime minister Imran Khan's case in the Wazirabad attack, ARY News reported.
The prime suspects in Khan's attack were Naveed, Tayyab, Waqas, and Ahsan and according to Pakistani news media, the case was heard via video link.
The court extended the judicial remand for 14 days and adjourned the hearing till March 20.
Earlier, the Joint Investigation Team (JIT) formed to probe the attack on the former prime minister and PTI chairman in Wazirabad, revealed that the prime suspect Naveed Meher was trained.
In December, the PTI leader Musaddiq Abbasi held a press conference along with Omar Sarfraz Cheema Advisor to the Chief Minister of Punjab.
He said that the Joint Investigation Team (JIT) carried out polygraphic tests of Naveed Meher and shocking revealed that the Wazirabad attack was planned and the attacker was not alone, but it's still not confirmed how many attackers were there.
The PTI leader further said that according to JIT the guard did not fire any bullets.
It is pertinent to mention here that Naveed Meher was arrested after opening fire at Imran Khan on November 3 from the crime scene at Allahwala Chowk during the party's long march.
Reacting to Mehr's arrest, in a statement, his counsel said that retaining Ghulam Mahmood Dogar as head of the JIT was based on "malice." He termed it necessary to remove Dogar as well from the JIT. The lawyer raised questions on why the previous members of the body were presenting the suspects in the court when a new joint investigation team has been made, as per the news report.
The First Information Report (FIR) of the gun attack incident had been registered on November 7.
The first information report of the incident was lodged on November 7 under the Anti-Terrorism Act 1997. The probe into the assassination attempt on Imran Khan had been handed over to an anti-corruption officer by Dogar, as per the sources within the JIT.
According to The News International report, Ghulam Mahmood Dogar had given the responsibility of interrogating the suspect to anti-corruption officer Anwar Shah and no other member was given access to the attacker.