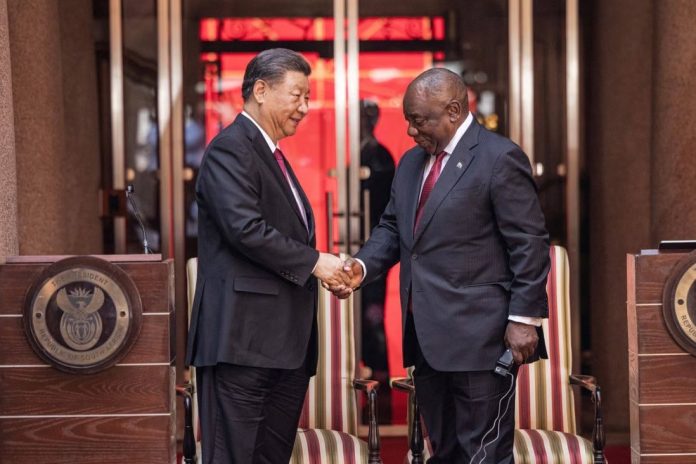 Relations between China and South Africa have entered a "golden era" and are set to deepen, Chinese President Xi Jinping told his South African counterpart Cyril Ramaphosa in talks in Pretoria on Tuesday.
"China is willing to work with [South Africa] to … deepen cooperation, strengthen collaboration and push the China-South Africa comprehensive strategic partnership to a new level," the Chinese foreign ministry quoted Xi as saying.
"Regardless of what happens in global affairs, China's commitment to deepening the friendly and cooperative relations between China and South Africa will remain unchanged."
Xi said relations between the two countries had entered a "golden era".
Xi is in South Africa for the Brics summit, which ends on Thursday.
It is his first visit to the country in five years and his fourth since taking office in 2013.
It is also Xi's second overseas visit this year – he travelled to Russia in March soon after China abandoned its zero-Covid policy.
He will attend the Brics summit in Johannesburg, and co-chair a China-Africa leaders' round-table dialogue with Ramaphosa on Thursday.
This year marks the 25th anniversary of formal ties between the two countries.
During their talks at the presidential residence on Tuesday, Xi said there had been a "great leap forward" in relations between the two countries, and a deepening of mutual trust and cooperation in international affairs, according to Chinese state media reports.
The two presidents agreed that China would try to narrow the trade gap by importing more South African goods, particularly beef, which Beijing banned last year after an outbreak of foot-and-mouth disease.