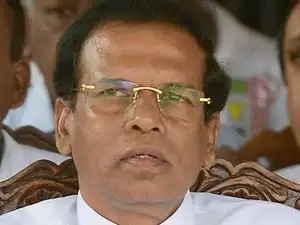 Ahead of a deadline set by Sri Lanka's Supreme Court, former President Maithripala Sirisena has paid the first instalment of 15 million Sri Lankan Rupees as compensation to the victims of the Easter terror attacks in 2019, according to media reports on Wednesday.
In January, Sirisena, 71, was ordered by the apex court to pay SLRs 100 million as compensation to the victims for his negligence in preventing one of the country's worst terror strikes despite having credible information of an imminent attack.
Sirisena was Sri Lanka's President and Defence Minister at the time of the attacks when nine suicide bombers belonging to the local Islamist extremist group National Thawheed Jamaat (NTJ) linked to ISIS carried out a series of devastating blasts that tore through three Catholic churches and three luxury hotels on April 21, 2019, killing nearly 270 people, including 11 Indians, and injuring over 500.
The court ordered Sirisena to pay a compensation of SLRs. 100 million, former police chief Pujith Jayasundara and former state intelligence services chief Nilantha Jayawardene to pay a compensation of SLRs. 75 million each, former defence secretary Hemasiri Fernando to pay a compensation of SLRs. 50 million.
Ahead of the July 12 July set by the Supreme Court, Sirisena paid SLRs 15 million as compensation on June 28 and filed a motion requesting that he be allowed to pay the remaining sum in 10 instalments of SLRs 8.5 million from June 30, 2024, to June 20, 2033, Colombo Gazette news portal reported.
In a motion filed through his lawyers, the former President explained that he receives a pension of SLRs. 97,500 as the former President, alongside a sum of SLRs. 54,285 for his services as a Member of Parliament, thus, he requested that he be granted more time to pay the remainder of the ordered sum of SLRs. 100 million, adaderana.lk reported.
Accordingly, it has been reported that former defence secretary Fernando, former police chief Jayasundara and Sisira Mendis have paid SLRs. 1 million, SLRs. 1,725,588 and SLRs. 5 million thus far, respectively, it added.
Meanwhile, the Treasury has also paid a sum of SLRs. 1 million as compensation on behalf of the government, sources confirmed.
Sirisena said in January that he will collect money from his friends to pay the compensation.
He also insisted that he did not receive information prior to the attacks in April 2019.
He said that the defence authorities did not inform him of a plot to carry out the attacks on April 21, 2019.
The attack stirred a political storm as then President Sirisena and then Prime Minister Ranil Wickremesinghe were blamed for their inability to prevent the attacks despite prior intelligence being made available.
As many as 12 petitioners, including the kin of the victims, the Catholic clergy, and the lawyers' body Bar Association of Sri Lanka, filed the fundamental rights petition against the then president for his negligence in preventing the attacks that proved fatal for the island nation's economy primarily dependent on tourism.
A presidential panel of inquiry appointed by Sirisena after the attacks ironically found the then-president guilty of his failure to prevent the attacks.
Sirisena, however, pleaded not guilty to the charge in the case filed after the panel's findings.