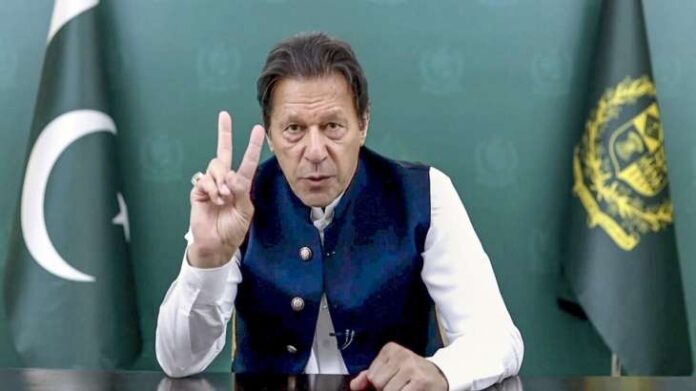 Islamabad [Pakistan], May 16: Pakistan Tehreek-e-Insaf (PTI) claimed that there was a plethora of "irrefutable evidence" to establish that "armed miscreants had entered into the peaceful gatherings," after the military vowed to bring arsonists who attacked the civil and military installations to justice during the conclusion of the special Corps Commanders Conference.
The PTI has issued a statement acknowledging the statement issued upon the conclusion of the special Corps Commanders Conference, according to the statement released on PTI's official Twitter handle.
"Peaceful protest after Chairman PTI's illegal abduction through paramilitary troops of Rangers from within the premises of Islamabad High Court on May 9, was a natural and foreseeable reaction guaranteed by the constitution as a basic right to peaceful protest to the public."
"However, a plethora of irrefutable evidence is available to establish that armed miscreants had been entered into the peaceful gatherings, who had indulged in arson and fired live bullets on the peaceful protestors leaving dozens killed and hundreds injured," it added.
The PTI believed that the identification of elements involved in this unusual incident of violence and chaos through a credible investigation is inevitable.
It added that it had an ample amount of evidence to present to "any independent inquiry" that arson and shootings were carried out by "agencies' men who wanted to cause mayhem and blame it on PTI so the current crackdown would be justified".
In the statement, PTI also stated that as responsible and the largest political institution in the federation of Pakistan, the party has an unwavering commitment to the constitution and democracy. PTI also believed that the constitution is a beacon of light for all of us at individual as well as collective levels and solutions to the most intricate problems lie within the ambit of the constitution and bounds of laws.
"PTI acknowledges the significance of national consensus over national issues and believes that the acceptance & backing by the public are the fundamental determinants of the acceptance & acceptability of a political party," the party said in the statement.
"PTI strongly believes that after the Almighty's Sovereignty, the right to rule belongs to the people who are privileged & authorized to undertake national policy & decision-making through their elected representatives. Contrary to the will of the people, and beyond the ambit of law & constitution, a consensus of any kind among undemocratic or inorganic political groups adds to the instability & uncertainty only," it added.