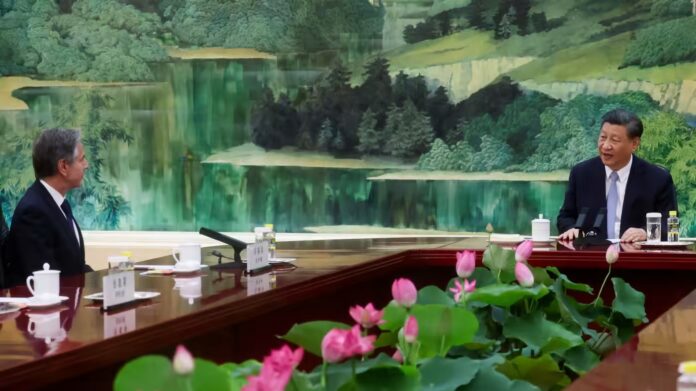 WASHINGTON: Suspicions that China is operating intelligence collection outposts in Cuba have renewed concerns over its efforts to establish a global network for power projection amid growing mistrust between Washington and Beijing.
U.S. Secretary of State Antony Blinken visited Beijing last week on Sunday and Monday to meet with Chinese President Xi Jinping and other senior officials. The trip — the first by an American secretary of state to China in about five years, aimed to stabilize turbulent bilateral relations.
Among other issues, Blinken brought up Beijing's suspected deal with Cuba for intelligence-gathering facilities 100 miles off the coast of the U.S. state of Florida, since the Biden administration assessed that China had upgraded such facilities in 2019.
"I made very clear that we would have deep concerns about PRC [the People's Republic of China] intelligence or military activities in Cuba," Blinken said last Tuesday at a news conference in London.
In Congress, top lawmakers concerned with foreign policy in both chambers urged Blinken and CIA Director William Burns to hold a classified briefing on the matter in a joint letter dated Thursday.
Though it is "no surprise" that Cuba and China are working together to undermine U.S. national security, "the establishment of intelligence facilities and expansion of military ties this close to U.S. territory is a significant, escalatory step," Sen. Robert Menendez and Rep. Michael McCaul wrote.
The facilities may be monitoring communications and electronic emissions from military bases in the southern and eastern continental U.S. Their so-called signal intelligence would help China get a better understanding of U.S. military planning and intentions.
Even if the communications are not decoded, tracking the volume and timing of signals can provide critical information. If the volume of communications significantly increases, for example, it may indicate that the U.S. is planning an imminent operation.
The Wall Street Journal reported that workers from Chinese telecommunications hardware providers Huawei Technologies and ZTE were spotted at suspected Chinese spy facilities in Cuba, raising speculation that the companies had contributed to upgrading intelligence-gathering outposts.
Chinese and Cuban authorities have denied the existence of such facilities.
Lyle Morris, senior fellow for foreign policy and national security at the Asia Society Policy Institute's Center for China Analysis, said the lack of talks between Washington and Beijing intensifies their secret intelligence collection activities. Such activities would raise concerns about the other side's intentions and policies, fueling a "negative cycle."
"When there is lack of communications, you inevitably look for other ways to understand the movements and the strategic intent of your competitor," Morris said.
"You want more [intelligence] or [the] less talks [there are], the more you invest in intelligence capabilities," he said. "The more you invest in intelligence capabilities, the more mistrust you engender."
Complicating matters was U.S. President Joe Biden calling Chinese President Xi Jinping a "dictator" at a recent campaign event in California. A spokeswoman for China's Ministry of Foreign Affairs hit back and said his words were "extremely absurd and irresponsible," making engagement between the leaders uncertain.
Chad Sbragia, a research analyst at the Institute for Defense Analyses, noted that there is little prospect of resuming defense talks between the U.S. and China and that China will continue to conduct unsafe maneuvers at sea and in the sky.
"This is a broader political issue on the Chinese side. Defense relations has caught up in the more sweeping changes in the bilateral dynamics," he said of military-to-military dialogue. Blinken told reporters in Beijing last week that China rejected his request to establish a crisis communication channel.
China's dangerous maritime and air activities are "not just the caprice of necessarily a single individual, but a collective understanding that the Chinese interests, from their point of view, are at risk," Sbragia said. "They're willing to undertake these activities as a means to try to compel the United States to accommodate," he said.
The U.S. assesses that China's suspected facilities in Cuba are just the tip of the iceberg of its overall strategy to establish an intelligence and logistics network across the globe.
"Since the start of this administration, we have engaged a number of countries where we've seen consideration of having some kind of presence … by China," Blinken said in London. "This is something we're going to be monitoring very, very closely, and we've been very clear about that," he said.
The Pentagon said in a congressionally mandated annual report on China's military power released in November that China had likely made overtures to the Solomon Islands, Vanuatu and Namibia for military logistics facilities.
Apart from these three, Beijing has considered such facilities in at least 14 other countries, including Myanmar, Pakistan, the United Arab Emirates, Equatorial Guinea and Tajikistan, the report noted.
The facilities would enable China to project and sustain its military power at greater distances, the Pentagon said it its analysis. It also warned that they would be used for intelligence monitoring targeting the U.S. military, citing Chinese military academics.
The report argued that "a global PLA [China's People's Liberation Army] logistics network could disrupt U.S. military operations as the PRC's global military objectives evolve," meaning that the great-power competition between Washington and Beijing extends well beyond the Indo-Pacific region.