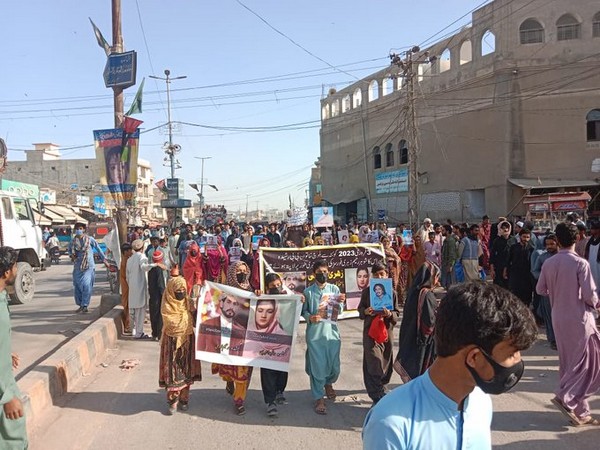 Protests continued in Quetta, Karachi, Kech, Khuzdar, Mand and other parts of Balochistan against the enforced disappearances of Baloch women.
New series of these protests are taking place after the enforced disappearances of Baloch women. On February 3, Pakistan Army in collaboration with intelligence agencies forcibly disappeared Rahim Zehri, his mother Mahbas Khatoon, his wife Rasheeda Zehri, and their two children from Gishkori Town in Quetta, the capital city of Balochistan.
In the same fashion, Pakistan Army whisked away Mahal Baloch, her two daughters and other women, and shifted them to an unknown location.
The family of Rahim Zehri were tortured, hence due to a mounting reaction from the masses, the women were released later on. However, the fate of Rahim Zehri is still unknown. Mahal Baloch was tortured as the eyewitness of her two daughters.
The following day, two elderly ladies along with Mahal's daughters were released but Mahal Baloch is still in Police detention.
Enforced disappearances of Baloch women:
Enforced disappearances are common in Balochistan. People forcibly disappear daily at the hands of the Pakistan Army and other law enforcement agencies, where mostly young people become the victim of enforced disappearances.
In the recent past, a few cases of the enforced disappearances of women have been also reported. Though in the last several months, a hike has been noticed in the enforced disappearances of Baloch women too. In the last six months, a dozen of women have become the victim of enforced disappearances in Quetta, Karachi, Bolan, Kech and Panjgur. Even Balochistan High Court also confirmed some cases of enforced disappearances of women.
Prior to this, such incidents were reported in District Panjgur and other parts of Balochistan, where the Pakistan Army whisked away women; tortured and abused them sexually. Women are kept in Nazi-style concentration camps where a woman was raped and became pregnant. Later on, she was forced to abortion.
The enforced disappearances of Baloch women have been reported since 2015; however, in the last few months, the abduction of Baloch women has increased. Last year, in August, Pakistan Army took away thirteen women in the Uch Kaman area of district Bolan. A known poetess of Balochi, Habiba Pir Jan was abducted from Karachi and another woman was detained from District Kech.
The cases of forced disappearances of Baloch women were also reported in 2018 and 2019. Baloch Nationalists claim that the Pakistan spy agency abducted a school teacher, Zarina Marri with her one-year-old child in 2007. Since then her whereabouts and fate are unknown. Renowned Pakistani journalist, Hamid Mir in one of his tweets claims that Zarina Marri forcibly disappeared from Khohlu and later on she was shifted to central detention in Karachi.
Origin of Enforced disappearances in Balochistan:
The enforced disappearances are not a new phenomenon in Balochistan. The available records show that on 28th October 2001 Pakistani spy agency whisked away Ali Asghar Bangulzai and Mohammad Iqbal in front of Degree college Quetta.
After passing of 24 days Mohammad Iqbal was released; however, after two decades there is no trace of Ali Asghar Bangulzai. Similarly, Jalil Rekhi, the Central Information Secretary of the Baloch Republican Party (BRP) was abducted by Pakistani security forces in the Kechi Baig area of Quetta in 2009. After three years of disappearance, he along with Tekadar Younis Baloch's mutilated dead bodies were thrown away in the mountainous area of Mand, Kech. After this, the enforced disappearances of Baloch became so frequent and have unabatedly continued to date.
Pakistan is not only targeting political activists but also forcibly disappearing and killing their relatives as the policy of collective punishment.
Enforced disappearances of Baloch women:
Regarding the recent cases of forced disappearance of the two women Baloch, the nationalist circles' opinion is that they have been subjected to collective punishment. After failing to counter the Baloch national movement, the state is targeting the families of those who are associated with the Baloch national struggle.
Even before this incident of forcible disappearances of the Zehri family on February 3, the Pakistani forces did immense levels of brutality. Even before this, many people belonging to the same family have been victims of enforced disappearance, killed in fake encounters and their mutilated bodies thrown in the deserts.
On June 21, 2021, the forces abducted two youths named Tabish Waseem and Liaqat from the same family and moved them to an unknown location, while Tabish was killed along with four other people in a fake encounter after being missing for seventeen months and the fate of Liaqat is still unknown.
Apart from this, Tabish Waseem's father was shot and seriously injured by unknown gunmen in Zehri Bazar and the shooters are said to have belonged to a state-backed armed group. Another youth Zahoor belonging to the Zehri family was forcibly disappeared by the forces on April 11, 2017, and his mutilated body was recovered twelve days later.
Zakria Zahri is of the same family, became the victim of enforced disappearances and there is no clue of his fate and whereabouts. On 18th February 2023, Mahal Baloch forcibly disappeared from Quetta. She belongs to a political family in district Kech.
Her, late father-in-law Muhammad Hussain is one of the founding leaders of the Baloch National Movement (BNM), the most active and strong party for the independence of Balochistan. Bibi Gul Baloch, the chairperson of the Human Rights Council of Balochistan, an organization working on human rights
violations in Balochistan, is the sister-in-law of the forcibly disappeared Baloch woman Mahal Baloch.
In the past, their houses in the Gumazi area of Kech district were destroyed and burnt several times by the forces due to which their family was forced to migrate from there and live in a rented house in Quetta. It is believed that her husband and brother-in-law have also been killed by Pakistan forces.
Enforced Disappearance of Women and the stance of Government: Regarding the enforced disappearances of the Zehri family, who went missing on February 3, the provincial government of Balochistan has maintained its stance that they are not in the custody of law enforcement agencies.
However, after the forced abduction of Mahal Baloch, the people of Balochistan sharply reacted against her extrajudicial arrest. The Pakistani forces showed her arrest by the notorious Counter Terrorism Department of police and accused her that she was a member and suicide bomber of the Balochistan Liberation Front (BLF), an armed organization active in Balochistan.
It is cited in the police's FIR that she was arrested with a suicide jacket in a ladies' Park near Satellite Town, Quetta. While it is evident in photos of her home that have gone viral on social media and from the statements of her family members that security forces broke into her house and took her to an unidentified place and tortured Mahal Baloch in presence of her two minor daughters.
Baloch Liberation Front also in its statement categorically rejected Mahal Baloch's affiliation with the organization. In Balochistan, previously CTD has carried out several suspicious activities. Many times, CTD has killed forcibly disappeared Balochs in a fake encounter.
Similarly, a woman, Noor Jan, forcibly disappeared from the Kech district last year, which sparked public outrage. As a result of mounting pressure from the public, later on, forces announced her arrest through the CTD, accusing her of being a suicide bomber. Hence, the court rejected these allegations and acquitted her honourably.
Mahal Baloch has been accused of being a Fedaayen of the Balochistan Liberation Front (BLF), but journalists covering the Baloch national struggle assert that the Balochistan Liberation Front (BLF) has no such Fedaayen (self-sacrificing unit). Among the armed organizations active for the independence of Balochistan, only the Baloch Liberation Army (BLA) has the Fedaayen Brigade. Fidayeen Majeed Brigade of BLA has been targeting Pakistani forces, Chinese engineers and Chinese officials in Karachi Panjgur, Nushki, Dalbandin, Quetta and Gwadar.
The Response of Baloch Nationalists with regard to Enforced Disappearances of Women:
Human rights and political organizations are demanding the immediate recovery of all enforced disappeared people of Balochistan. In the same way, maintained that the allegations levelled against Mahal Baloch are false and fabricated. Last day, women protested in Quetta, the capital of Balochistan, and staged a sit-in protest for several hours by blocking the main entrance to Quetta city.
They ended their protest after negotiating with an administrative official ensuring that Mahal Baloch would be released within 48 hours and all false accusations levelled against her would be withdrawn.
Apart from Quetta, protests and demonstrations are also going on in Kech, Mand, Lahore and Karachi. While on social media, Mahal Baloch and the forced disappearance of women have been trending for the past several days.
Effects of the enforced disappearance of women on the Baloch nation:
Baloch society is very sensitive about women. Experts say that such incidents will further worsen the situation in Balochistan and the reaction of Baloch youth to such incidents is a bad omen for the state of Pakistan. The Baloch independence movement, especially the Baloch resistance organizations, will become stronger after such incidents, and the youth will choose the path of armed struggle in order to protect Baloch women against Pakistani atrocities. Such events will prove to be very dangerous for Pakistan.
The forced disappearance of Mahal Baloch and other Baloch women has given rise to a new debate in the political circles of Balochistan, where Baloch consider such actions as a violation of Baloch cultural codes and traditions, while the forced disappearance of women is also increasing. Baloch youths are willing to break their silence against state-led oppression and adopt any measures that would be a path to preserve their national identity.