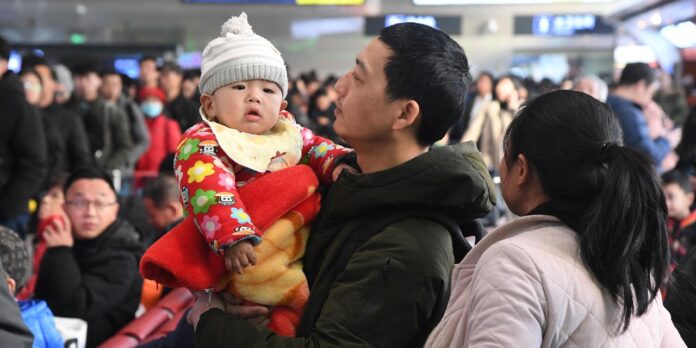 In Henan, there were 8,000 more deaths than births last year, the province's first population fall since 1961
Four of nine Chinese provinces that have released data for 2022 have reported natural population declines
Deaths outnumbered births for the first time in more than 60 years in China's third most populous province last year, echoing the country's broader population decline and further underlining its deepening demographic challenges.
Four of nine provinces that have released statistics for last year have reported natural population declines.
In Henan, there were 8,000 more deaths than births, the province's first population decline since 1961.
A massive outflow of workers contributed to the overall population decline of 110,000 people, though that was a smaller figure than the plunge of 580,000 people in 2021, according to official data.
"Affected by various factors such as the continuous decrease of women of childbearing age, changes in beliefs, delayed marriage and childbirth, population outflow and population ageing, the number of births [in Henan] continued to decrease in 2022, and the number of deaths have increased," the province's Bureau of Statistics said on Monday.
The number of people aged 60 and older rose by 790,000 compared to a year earlier and accounted for 18.9 per cent of the population in Henan, compared to 19.8 per cent at the national level. In comparison, the number of children aged under 15 fell by 920,000.
Mothers in China had 9.56 million babies last year – the lowest total in the nation's modern history and the first time the figure fell below 10 million.
Deaths outnumbered births as China's overall population plummeted by 850,000 people – to 1.4118 billion in 2022, down from 1.4126 billion a year earlier.
Elsewhere, Anhui and Gansu provinces, as well as the city of Chongqing, all reported natural population declines, although their overall populations grew thanks to interprovincial migration.
Guangxi autonomous region in southwestern China recorded population growth of 100,000 in 2022, with natural expansion of 72,000 and an additional inflow of 28,000 people.
Hainan, China's southernmost island, saw its population grow by 65,600, and Guizhou by 40,000, according to official statistics.
Most provinces that saw growth are located in central and western China, which reflects that many manufacturing industries are moving inland from the coast and migrant workers are choosing to seek work closer to home, said Peng Peng, the executive chairman of the Guangdong Society of Reform, a think tank connected to the provincial government.
"In addition, some returned home to start their own businesses after having accumulated experience in [developed areas]," he said.
Provinces across China have introduced pronatalist measures to encourage births, including lengthening maternity and paternity leave and offering cash rewards for families that have a second or third child.
Shenyang, the capital of Liaoning province, said last week it would offer a monthly cash payment of 500 yuan (US$75) to local families who are raising three children until the third child reaches the age of three.
Yunnan province said it will give families with two children a one-off payment of 2,000 yuan and three-child families 5,000 yuan, with an additional 800 yuan in annual subsidies until the child turns three.
Shandong's capital, Jinan, also started providing monthly subsidies of 600 yuan to families last month.